Arachnids' Ascent
Quest Info
Length

Medium

Location
Infested Pit
Province
Wynn
Combat Level
14
Starter NPC

Private Cob

Reward
As follows:
Arachnids' Ascent is a medium level 14 quest centered around getting into the Infested Pit Dungeon near Mt. Wynn.
Preview
[
]
Private Cob has been tasked by Captain Enduyn with getting a bucket of lava to break into the Infested Pit dungeon, however, he requires the player's help to get the bucket.
Stage 1
[
]
» Talk To Private Cob in the Savannah at [682, 74, -1714]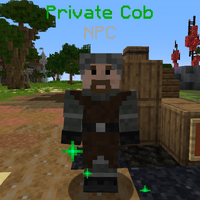 Dialogue:
Private Cob: 'ey there my good chap! I require some assistance!
Private Cob: Y'see, I've been tasked to bring some lava over to my cap'n near Mount Wynn.
Private Cob: However! The road is completely bubbling with bandits and the undead, right?! Ain't no way I can carry it through.
Private Cob: The cap'n said that getting it from Mount Wynn itself woulda been too dangerous, so I picked this safe lava spring, but...
Private Cob: Pfft! What a load of baloney! I regret comin' here! Say, ya seem tough! 'bet you could deal with the volcano!
Private Cob: Well, if ya want the best route,

follow that road with the burn marks

. 'sends ya straight to cap'n!
Private Cob: Cap'n will tell ya what to do then. Now get movin'!
Image
Name
Level
Health
AI Type
Abilities
Elemental Stats
Drops
Location
100px
Lava Bandit
15
150
Melee AI
-

✽

Water: Weakness


✹

Fire: Damage
-
Scorched Trail
100px
Fire Bandit
15
250
Melee AI
Flamethrower

✽

Water: Weakness


✹

Fire: Damage
-
Scorched Trail
Stage 2
[
]
» Speak to Captain Enduyn at [-192, 44, -1822]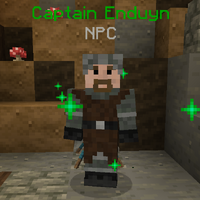 Dialogue:
Enduyn: At ease, soldier! Did Cob send you?
Enduyn: That private can't seem to get the bucket of lava here without trouble.
Enduyn: I'm sure you're aware that the Nivla Woods are flooded with spiders! Well, turns out they come from this nest, and it must be stopped!
Enduyn: Magic doesn't seem to work against that strong web... The same goes for regular fire. So, we thought... Why not just use lava?!
Enduyn: Look, that's our best bet right now. If we can kill the queen, we can control the population.
Enduyn: Mount Wynn was considered too dangerous to try and enter, but if Cob sent you to try it out yourself, and you think you can do it, go ahead.
Enduyn: So I've got a mission for you, soldier. Head to the top of Mount Wynn, the nearby volcano, and return with lava.
Enduyn: Don't worry, it's been dormant for hundreds of years. Now take this bucket and get moving! That cave behind you leads right up.
Stage 3
[
]
» Enter Mount Wynn and collect lava through the cave at [-120, 76, -1888]
Image
Name
Level
Health
AI Type
Abilities
Elemental Stats
Drops
Location
Spiderling
16
85
Melee AI
-
-
-
Mount Wynn
Cave
Falling Lava Bomb
-
-
-
Blows up, scorches ground
-
-
Mount Wynn
Cave Ceiling
As you progress through the cave, you will have to avoid Spiderlings and Lava Bombs, and use a pressure plate to jump across a large gap at one point.
You've been rocketed by the great web.
Then, you have to complete a parkour, as the platforms slowly sink into the lava, so you must be quick. At the end, you can enter the lava collection room.
| Image | Name | Level | Health | AI Type | Abilities | Elemental Stats | Drops | Location |
| --- | --- | --- | --- | --- | --- | --- | --- | --- |
| | Lava Spider | 17 | 298 | Melee AI | Flamethrower | ✹ Def | - | Lava Collection Room |
| | Hot Coals | 12 | 100 | Ranged AI | - | - | - | Lava Collection Room |
Location
Lava Collection Room


-3198, 23, -1730
Dialogue:
This should be more than enough lava, you should report back to Captain Enduyn.
Stage 4
[
]
» Report to Captain Enduyn with the lava at [-192, 44, -1822]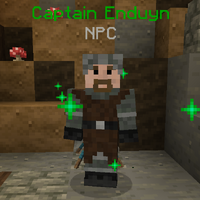 Dialogue:
Enduyn: Ah perfect! Now give me that bucket.
Enduyn: Seems like you've got a real knack for spider killing, would you be willing to tackle the queen?
Enduyn: I'll keep dealing with the rest of the spiders in the forest.
Enduyn: You know what? You see that tunnel behind you? It goes straight back to Cob's position, over at the lava spring.
Enduyn: I'll give you permission to use it. Cob had permission this whole time, I have... no clue why he didn't. Well, what's done is done.
Enduyn: Anyways, stand clear, I'm about to burn down the webs! Thanks for your assistance, soldier!
Enduyn will use the lava on the webs, creating a hole and an entrance to the dungeon.
Enduyn: Here we go!
Enduyn: Now head on in and finish off these pests!
Trivia
[
]