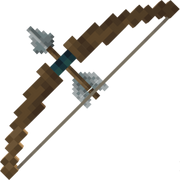 Bows are weapons for the Archer and the Hunter class. Like other weapons, there are different rarities of bows, and they range in damage and level. Bows are currently the most damage-dealing weapons.
Obtaining
[
]
Bows can be obtained in the following ways:
Usage
[
]
Unidentified bows have to be identified with emeralds using the Item Identifier before being used.
A bow can only be used by archers and hunters who meet all the minimum level requirements of it.
Melee attack
[
]
Pressing right click while holding a bow can shoot an arrow, dealing melee damage to the target.
Spells
[
]
Arrow Storm (Level 1) [Left-Right-Left] - Shoot a lot of arrows really quickly.
Escape (Level 11) [Left-Left-Left] - Boost yourself and your party with speed and backflip: to escape from danger.
Bomb Arrow (Level 21) [Left-Right-Right] - Fire an arrow that explodes on contact.
Arrow Shield (Level 31) [Left-Left-Right] - Create a shield to defend yourself from attack.
Identifications
[
]
Players can receive identification bonuses from the bow that they are holding.
List of Bows
[
]
Depressing
[
]
| Name | Lv. Min | Damage | Attack Speed |
| --- | --- | --- | --- |
| Oak Wood Bow | 1 | 5-13 | Slow |
| Stone-hewn Bow | 2 | 17-21 | Very Slow |
| Light Oak Wood Bow | 4 | 7-13 | Normal |
| Birch Wood Bow | 6 | 13-19 | Slow |
| Andesite-hewn Bow | 8 | 31-40 | Very Slow |
| Light Birch Wood Bow | 11 | 15-21 | Normal |
| Spruce Wood Bow | 13 | 21-32 | Slow |
| Diorite-hewn Bow | 15 | 45-61 | Very Slow |
| Light Spruce Wood Bow | 17 | 20-28 | Normal |
| Jungle Wood Bow | 19 | 30-39 | Slow |
| Granite-hewn Bow | 22 | 68-84 | Very Slow |
| Light Jungle Wood Bow | 25 | 28-34 | Normal |
| Flawless Oak Bow | 28 | 41-57 | Slow |
| Flawless Stone Bow | 30 | 90-106 | Very Slow |
| Flawless Light Oak Bow | 33 | 41-49 | Normal |
| Flawless Birch Bow | 36 | 62-80 | Slow |
| Flawless Andesite Bow | 39 | 130-154 | Very Slow |
| Flawless Light Birch Bow | 42 | 56-72 | Normal |
| Flawless Spruce Bow | 45 | 91-111 | Slow |
| Flawless Light Spruce Bow | 45 | 74-95 | Normal |
| Flawless Diorite Bow | 47 | 184-214 | Very Slow |
| Flawless Jungle Bow | 53 | 122-144 | Slow |
| Flawless Granite Bow | 54 | 223-277 | Very Slow |
| Flawless Light Jungle Bow | 55 | 90-111 | Normal |
| Pure Oak Bow | 56 | 135-159 | Slow |
| Pure Stone Bow | 57 | 249-297 | Very Slow |
| Pure Light Oak Bow | 59 | 106-128 | Normal |
| Pure Birch Bow | 61 | 162-188 | Slow |
| Pure Andesite Bow | 63 | 306-362 | Very Slow |
| Pure Light Birch Bow | 65 | 138-152 | Normal |
| Pure Spruce Bow | 67 | 193-221 | Slow |
| Pure Diorite Bow | 69 | 358-422 | Very Slow |
| Pure Light Spruce Bow | 70 | 145-175 | Normal |
| Pure Jungle Bow | 72 | 220-250 | Slow |
| Pure Granite Bow | 74 | 404-474 | Very Slow |
| Pure Light Jungle Bow | 76 | 168-200 | Normal |
| Impeccable Oak Bow | 78 | 255-286 | Slow |
| Impeccable Stone Bow | 80 | 470-542 | Very Slow |
| Impeccable Light Oak Bow | 82 | 196-230 | Normal |
| Impeccable Andesite Bow | 86 | 535-615 | Very Slow |
| Impeccable Light Birch Bow | 89 | 225-265 | Normal |
| Impeccable Diorite Bow | 93 | 629-705 | Very Slow |
| Impeccable Light Spruce Bow | 93 | 256-299 | Normal |
| Impeccable Granite Bow | 98 | 700-770 | Very Slow |
| Impeccable Light Jungle Bow | 98 | 275-315 | Normal |
| Name | Lv. Min | Quest Req | Neutral Dam. | Earth Dam. | Thunder Dam. | Water Dam. | Fire Dam. | Air Dam. | Str. Min | Dex. Min | Int. Min | Def. Min | Agi. Min | Attack Speed | Slots |
| --- | --- | --- | --- | --- | --- | --- | --- | --- | --- | --- | --- | --- | --- | --- | --- |
| Refined Bow | 1 | – | 7-13 | – | – | – | – | – | – | – | – | – | – | Normal | 1 |
| Stormstrike | 3 | – | 5-8 | – | – | – | – | – | – | – | – | – | – | Fast | 1 |
| Aldorei's Training Bow | 5 | – | 7-15 | – | – | – | – | – | – | – | – | – | – | Fast | 0 |
| Tormenter | 6 | – | 7-9 | – | – | – | – | – | – | 2 | – | – | – | Very Fast | 1 |
| Breeze | 7 | – | 10-12 | – | – | – | – | 8-14 | – | – | – | – | 4 | Slow | 1 |
| Nemract's Bow | 7 | – | 12-23 | – | – | – | – | – | – | – | – | – | – | Slow | 1 |
| Stale | 9 | – | 12-16 | – | – | 8-14 | – | – | – | – | – | – | – | Normal | 1 |
| Flaming Bow | 9 | – | 12-20 | – | – | – | 6-8 | – | – | – | – | 4 | – | Slow | 1 |
| Refined Longbow | 9 | – | 20-28 | – | – | – | – | – | – | – | – | – | – | Slow | 1 |
| Gavel Imported Bow | 12 | – | 9-16 | – | – | – | – | – | – | – | – | – | – | Normal | 1 |
| Leech Bow | 12 | – | 19-26 | – | – | – | – | – | – | – | – | – | – | Normal | 1 |
| Green Perfection | 15 | – | 23-25 | – | – | – | 11-14 | – | – | – | – | 5 | – | Slow | 1 |
| Ivy | 17 | – | 20-32 | 10-16 | – | – | – | – | – | – | – | – | – | Slow | 1 |
| WitherString | 18 | – | 30-45 | – | – | 2-8 | – | – | – | – | – | – | – | Slow | 1 |
| Frog | 19 | – | 12-18 | 6-12 | – | 4-10 | – | – | 12 | – | 8 | – | – | Normal | 1 |
| Silver Bow | 20 | – | 22-40 | – | – | – | – | – | – | – | – | – | – | Normal | 1 |
| Retina Shooter | 22 | – | 45-70 | 15-20 | – | – | – | – | 5 | – | – | – | – | Very Slow | 1 |
| Harpoon | 23 | – | 74-84 | – | – | – | – | – | – | – | – | – | – | Very Slow | 1 |
| The Wildwing | 24 | – | 10-23 | – | – | – | – | 15-30 | – | – | – | – | 5 | Normal | 1 |
| Cracheur | 25 | – | 8-14 | – | – | 12-22 | – | – | – | – | 14 | – | – | Fast | 1 |
| Sharpshooter | 26 | – | 36-43 | – | – | – | – | – | – | – | – | – | – | Normal | 1 |
| Cobra | 27 | – | 8-13 | – | 6-18 | – | – | – | – | 15 | – | – | – | Fast | 1 |
| Aeolian | 29 | – | 24-50 | – | – | – | – | 14-22 | – | – | – | – | 10 | Normal | 1 |
| Bow of Wisdom | 29 | – | 50-66 | – | – | 6-12 | – | – | – | – | 5 | – | – | Slow | 2 |
| Venom | 30 | – | 28-40 | – | – | – | 20-40 | – | – | – | – | – | – | Slow | 1 |
| Precision | 32 | – | 160-180 | – | – | – | – | – | – | – | – | – | – | Very slow | 0 |
| Radiance | 34 | – | 34-49 | – | – | 12-24 | 15-19 | – | – | – | 15 | 15 | – | Slow | 1 |
| Etikal | 35 | – | 22-32 | 8-12 | 8-12 | 8-12 | 8-12 | 8-12 | 5 | 5 | 5 | 5 | 5 | Slow | 1 |
| Long Bow | 38 | – | 40-50 | 40-50 | – | – | – | – | 25 | – | – | – | – | Slow | 1 |
| Salmon | 40 | – | 22-44 | – | – | 33-55 | – | – | – | – | 5 | – | – | Normal | 1 |
| Flamiche | 41 | – | 18-22 | – | – | – | 16-20 | – | – | – | – | 25 | – | Very Fast | 1 |
| Crossbow | 42 | – | 155-165 | – | – | – | – | – | – | – | – | – | – | Very Slow | 2 |
| Crafted Gem | 44 | – | 1-20 | – | – | – | – | – | – | – | – | – | – | Fast | 4 |
| Nivla's Arch | 45 | – | 122-136 | 80-96 | – | – | – | – | – | – | – | – | – | Very Slow | 2 |
| Scorcher | 47 | – | 34-40 | – | – | – | 50-60 | – | – | – | – | 30 | – | Normal | 1 |
| Grenouille | 48 | – | 50-75 | – | – | 20-35 | – | – | – | – | 30 | – | – | Normal | 2 |
| Sparkles | 48 | – | 38-50 | – | 18-65 | – | – | – | – | 22 | – | – | – | Fast | 1 |
| Quickshot | 50 | – | 50-70 | – | – | – | – | – | – | 20 | – | – | – | Very Fast | 2 |
| Dancer's Rhythm | 51 | – | 58-75 | – | – | – | – | 20-28 | – | – | – | – | 20 | Normal | 1 |
| Armageddon | 53 | – | 58-75 | – | 20-120 | – | – | – | 10 | 20 | – | – | – | Very Slow | 1 |
| Ballista | 55 | – | 125-250 | 75-150 | – | – | – | – | 30 | – | – | – | – | Very Slow | 2 |
| Windforce | 57 | – | 30-46 | – | – | – | – | 28-52 | – | – | – | – | – | Very Fast | 2 |
| Whitecap | 59 | – | 76-112 | – | – | 51-65 | – | – | – | – | 30 | – | – | Normal | 2 |
| Raging Sun | 61 | – | 110-150 | – | – | – | 60-110 | ? | – | – | – | 25 | – | Slow | ? |
| Stranglevine | 63 | – | 80-125 | 75-120 | – | – | – | – | – | – | – | – | – | Slow | 2 |
| Wolf Bow | 65 | – | 120-230 | – | – | – | – | – | – | – | – | – | – | Normal | 2 |
| Clearwater | 67 | – | 100-120 | – | – | 60-80 | – | – | – | – | 55 | – | – | Normal | 2 |
| Steam Vent | 69 | – | 76-128 | – | – | – | 48-85 | 37-99 | – | – | – | 20 | 20 | Slow | 2 |
| Chaotic | 71 | – | 5-25 | – | 5-175 | – | – | – | – | 40 | – | – | – | Very Fast | 0 |
| Lazybones | 74 | – | 275-350 | – | – | 115-150 | – | – | – | – | – | – | – | Very Slow | 3 |
| Hope | 76 | – | 240-280 | – | – | – | – | – | – | – | – | – | – | Slow | 2 |
| Sight of the Druid | 78 | – | 170-215 | 100-130 | – | – | – | – | 35 | – | 15 | – | – | Slow | 2 |
| Winterspell | 79 | – | 135-222 | – | – | – | – | 120-180 | – | – | – | – | – | Slow | 2 |
| Cemented Bow | 80 | - | 120-130 | 320-440 | - | 320-440 | - | - | 40 | - | 40 | - | - | Super Slow | 2 |
| Storm Caller | 82 | – | 80-110 | – | 35-75 | – | – | 45-55 | – | 25 | – | – | 25 | Fast | 2 |
| Solitude | 84 | The Lost | 90-130 | – | – | – | – | 80-10 | – | – | – | – | 60 | Fast | 2 |
| Flintlock | 86 | – | 195-325 | – | – | – | 105-175 | – | – | – | – | – | – | Slow | 2 |
| Slumber | 88 | – | 150-240 | – | – | 130-210 | – | – | – | – | 45 | – | – | Slow | 3 |
| Jewelled Sinew | 90 | – | – | – | 25-175 | 75-125 | 50-150 | – | – | 20 | 20 | 20 | – | Normal | 2 |
| Dunesweeper | 92 | – | 145-200 | – | – | – | – | 65-90 | 25 | – | – | – | 45 | Fast | 2 |
| Magnus | 92 | – | 600-800 | – | – | – | 400-500 | – | – | 50 | – | 50 | – | Super Slow | 2 |
| Crescent | 93 | – | 145-250 | – | – | 75-130 | – | – | – | – | 60 | – | – | Normal | 2 |
| Sleeping Beast | 95 | – | 120-240 | 110-160 | 50-220 | – | – | – | 30 | 30 | – | – | – | Slow | 3 |
| Demon's Will | 97 | – | 120-180 | – | 110-180 | – | 110-180 | – | – | 40 | – | 30 | – | Slow | 2 |
| Awakening | 100 | – | 50-100 | 50-100 | 50-100 | 50-100 | 50-100 | 50-100 | – | – | – | – | – | Normal | 0 |
| Name | Lv. Min | Quest Req | Neutral Dam. | Earth Dam. | Thunder Dam. | Water Dam. | Fire Dam. | Air Dam. | Str. Min | Dex. Min | Int. Min | Def. Min | Agi. Min | Attack Speed | Slots |
| --- | --- | --- | --- | --- | --- | --- | --- | --- | --- | --- | --- | --- | --- | --- | --- |
| Galaxy Piercer | 4 | – | 10-14 | – | – | – | – | – | – | – | – | – | – | Normal | 1 |
| Dart Sling | 8 | – | 10-28 | – | – | – | – | – | – | – | – | – | – | Normal | 0 |
| Phrygian | 11 | – | 17-26 | – | – | – | – | – | – | – | – | – | – | Fast | 1 |
| Carvel's Sight | 16 | – | 22-30 | – | – | 9-14 | – | – | – | – | 8 | – | – | Normal | 1 |
| Savannah Wind | 19 | – | 11-28 | – | – | – | – | 4-17 | – | – | – | – | 8 | Very Fast | 0 |
| Slate Bow | 19 | – | 14-18 | 14-18 | – | – | 14-18 | – | 10 | – | – | 10 | – | Normal | 1 |
| Ancient Battle Crossbow | 23 | – | 40-65 | 40-65 | – | – | – | – | 45 | – | – | – | – | Very Slow | 0 |
| Meridian | 23 | – | 28-32 | – | – | 14-24 | – | – | – | – | 12 | – | – | Normal | 1 |
| Life Extractor | 26 | – | 32-46 | – | – | – | 12-16 | – | – | – | – | – | – | Slow | 0 |
| Acidstream | 31 | – | 12-14 | – | 31-37 | – | – | – | – | – | – | – | – | Slow | 0 |
| Cursed Bow | 36 | – | 22-38 | – | 1-50 | – | – | – | – | 18 | – | – | – | Fast | 1 |
| Frozen Earth | 40 | – | 30-55 | 120-170 | – | 40-60 | – | – | 25 | – | 5 | – | – | Super Slow | 1 |
| Spirit | 40 | – | 27-54 | – | – | – | – | 43-66 | – | – | – | – | 15 | Normal | 2 |
| Cross-aegis | 45 | – | 72-105 | – | – | – | 31-44 | – | – | – | – | 30 | – | Slow | 2 |
| Relic Bow | 45 | – | 12-35 | 12-35 | 12-35 | 12-35 | 12-35 | 12-35 | – | – | – | – | – | Slow | 2 |
| The Traveler | 49 | – | 54-79 | – | – | – | – | – | – | – | – | – | – | Very Fast | 2 |
| Meteoric Arch | 52 | – | 150-230 | – | – | – | – | – | 2 | 2 | – | 2 | 2 | Slow | 3 |
| Krakem | 55 | – | 58-99 | – | – | 39-56 | – | – | – | – | 25 | – | – | Slow | 1 |
| Vile | 62 | – | 35-115 | 35-115 | – | – | – | – | – | – | – | – | – | Fast | 3 |
| Decay Burner | 62 | – | 100-170 | - | - | - | 410-600 | - | - | - | - | 25 | - | Super Slow | 1 |
| Acrobat | 64 | – | 40-90 | – | – | – | – | 80-110 | – | 10 | – | – | 40 | Fast | 2 |
| Polar Star | 65 | – | – | – | 100-100 | – | – | – | – | 45 | – | – | – | Super Fast | 0 |
| Jungle Artifact | 68 | – | 140-210 | 210-280 | – | – | 70-210 | – | 21 | – | – | 21 | – | Very Slow | 0 |
| Hellkite's Beak | 71 | – | 90-135 | – | 45-75 | – | 55-90 | – | – | 25 | – | 25 | – | Normal | 2 |
| Ivory Bow | 75 | – | 145-175 | 15-21 | 15-21 | 15-21 | 15-21 | 15-21 | 15 | 15 | 15 | 15 | 15 | Normal | 1 |
| Hellbow | 76 | – | 30-120 | 40-80 | – | – | 130-210 | – | 10 | – | – | 40 | – | Slow | 1 |
| Fyrespit | 81 | – | 130-180 | – | – | 40-70 | 140-210 | – | – | – | 10 | 60 | – | Slow | 2 |
| Oktavist | 84 | – | 140-390 | 300-380 | – | – | – | – | 65 | – | – | – | – | Very Slow | 1 |
| Thunderlock | 86 | – | 60-90 | – | 10-220 | – | – | – | – | 70 | – | – | – | Very Fast | 3 |
| Djinni | 89 | – | 230-370 | – | – | – | 90-150 | – | – | – | – | 30 | 40 | Slow | 2 |
| Petrified Horror | 94 | – | 215-280 | 375-430 | 250-300 | – | – | – | 70 | 70 | – | – | – | Very Slow | 3 |
| Ensa's Resolve | 96 | – | 10-10 | – | – | 150-180 | – | 130-200 | – | – | 50 | – | 20 | Normal | 2 |
| Earthsky Equinox | 98 | – | – | 150-200 | – | – | – | 100-300 | 45 | – | – | – | 45 | Normal | 1 |
| Fog of Creation | 100 | – | 275-300 | 55-60 | 55-60 | 55-60 | 55-60 | 55-60 | 20 | 20 | 20 | 20 | 20 | Slow | 0 |
| Name | Lv. Min | Quest Req | Neutral Dam. | Earth Dam. | Thunder Dam. | Water Dam. | Fire Dam. | Air Dam. | Str. Min | Dex. Min | Int. Min | Def. Min | Agi. Min | Attack Speed | Slots |
| --- | --- | --- | --- | --- | --- | --- | --- | --- | --- | --- | --- | --- | --- | --- | --- |
| Iron String | 5 | – | 47-63 | – | – | – | – | – | 10 | – | – | – | – | Very Slow | 0 |
| Crackshot | 11 | – | 149-149 | – | – | – | – | – | – | – | – | – | – | Super Slow | 0 |
| Witherhead's Bow | 12 | – | 3-12 | – | 1-15 | – | – | – | – | – | – | – | – | Very Fast | 1 |
| Relic | 14 | – | 4-8 | 8-10 | 1-14 | 2-8 | | 6-8 | 4 | 4 | 4 | 4 | 4 | Normal | 1 |
| Skin Piercer | 18 | – | 1-60 | – | 1-40 | – | – | – | – | 5 | – | – | – | Normal | 1 |
| Glacial Crest | 27 | – | 30-50 | – | – | – | – | 20-36 | – | – | – | – | 20 | Fast | 1 |
| Nemract's Rage | 30 | – | 25-35 | – | – | 50-65 | – | – | – | – | 10 | – | – | Normal | 2 |
| Damnation | 31 | – | 70-100 | – | – | – | – | – | – | – | – | 20 | – | Normal | 2 |
| Mesarock Arch | 36 | – | 100-100 | 25-75 | – | – | – | – | 10 | – | – | – | – | Slow | 3 |
| Chaser | 39 | – | 18-22 | – | – | – | – | 35-45 | – | – | – | – | 30 | Very Fast | 1 |
| Thunderbolt | 42 | – | 11-23 | – | 1-101 | – | – | – | – | 20 | – | – | – | Super Fast | 1 |
| Eruption | 49 | – | 150-220 | 70-100 | – | – | 60-80 | – | 30 | – | – | 10 | – | Very Slow | 1 |
| Contamination | 51 | – | – | 5-30 | – | – | – | – | – | – | – | – | – | Slow | 0 |
| Infinity | 55 | – | 20-30 | 20-30 | 20-30 | 20-30 | 20-30 | 20-30 | 10 | 10 | 10 | 10 | 10 | Fast | 2 |
| Olux's Prized Bow | 55 | The Shadow of the Beast | 60-100 | 80-120 | – | 60-80 | – | – | – | – | – | – | – | Slow | 2 |
| Clairvoyance | 62 | – | 60-90 | – | – | 45-75 | – | – | – | – | 55 | – | – | Fast | 2 |
| Redbeard's Hand Canon | 66 | – | 840-1070 | – | – | – | – | – | 10 | – | – | – | – | Super Slow | 3 |
| Maelstrom | 70 | – | – | – | 60-110 | 50-90 | – | 40-100 | – | 20 | 20 | – | 20 | Fast | 2 |
| Destructor | 73 | – | 200-240 | – | – | – | – | – | – | 50 | – | – | – | Fast | 2 |
| Corrupted Witherhead's Bow | 74 | – | 35-75 | – | 10-220 | – | – | – | – | 75 | – | – | 10 | Super Fast | 2 |
| Bob's Mythic Bow | 75 | Reincarnation | 350-470 | – | – | – | – | – | – | – | – | – | – | Slow | 3 |
| Spiritshock | 81 | – | 30-60 | – | 190-280 | – | – | – | – | 80 | – | – | – | Normal | 2 |
| Torrential Tide | 85 | – | 1-50 | – | – | 50-200 | – | – | – | – | 60 | – | – | Super Fast | 1 |
| Return to Ether | 90 | – | 90-150 | – | – | – | – | 110-130 | – | – | – | – | 55 | Fast | 2 |
| Hellstrand | 92 | – | 300-400 | – | – | – | 200-280 | – | – | – | – | 50 | – | Slow | 3 |
| Gale's Force | 95 | – | 120-150 | – | – | – | – | 120-150 | – | 30 | – | – | 70 | Very Fast | 3 |
| Cluster | 99 | – | 50-200 | – | – | – | – | – | – | – | – | – | – | Super Fast | 4 |
| Stinger | 99 | – | 1600-2000 | – | – | – | – | – | – | – | – | – | – | Super Slow | 2 |
| Infused Hive Bow | 100 | The Qira Hive | 400-600 | – | – | – | – | – | – | – | – | – | – | Normal | 5 |
| Name | Lv. Min | Quest Req | Neutral Dam. | Earth Dam. | Thunder Dam. | Water Dam. | Fire Dam. | Air Dam. | Str. Min | Dex. Min | Int. Min | Def. Min | Agi. Min | Attack Speed | Slots |
| --- | --- | --- | --- | --- | --- | --- | --- | --- | --- | --- | --- | --- | --- | --- | --- |
| Az | 74 | – | 40-80 | – | 1-350 | – | – | – | – | 80 | - | – | – | Fast | 1 |
| Freedom | 93 | – | – | 110-135 | 20-170 | 70-85 | 90-100 | 80-100 | 30 | – | 30 | 30 | 30 | Normal | 4 |
| Grandmother | 95 | – | 205-290 | 410-540 | – | – | – | – | 100 | – | – | – | – | Slow | 4 |
| Ignis | 95 | – | 170-220 | – | – | – | 250-300 | – | – | – | – | 80 | – | Normal | 3 |
| Spring | 98 | – | 300-360 | – | – | 150-210 | – | – | 15 | – | 120 | – | – | Normal | 3 |
| Stratiformis | 99 | – | 110-200 | – | – | – | – | 200-355 | – | – | – | – | 120 | Fast | 3 |