| | |
| --- | --- |
| | This article is about the city of Cinfras. For the NPC of the same name, see Cinfras (NPC). |
Cinfras is the central hub of Gavel. It is home to the Armour and Weapon Merchants, a Powder Master, and the King's Merchant. It also houses the Cinfras Bank (including Emerald Merchants and a Liquid Emerald Merchant).
[

]
Map
[
]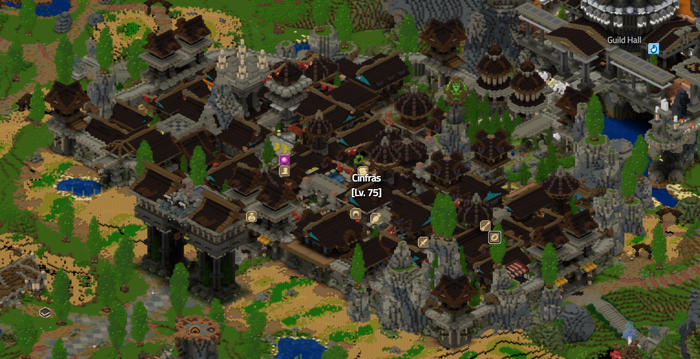 Gates
[
]
Quick Travel
[
]
In the Letvus Airbase lies the airship which can be used for quick travel between Detlas and Cinfras. You must have completed the quest Flight in Distress in order to gain access to fast travel between the two cities.
The Southwest Block contains 4 orange teleporters, named "The Juggler's Tavern", which can be used for quick travel to (but not from) Aldorei, Thesead, Rodoroc, and Ahmsord.
NPCs
[
]
Crafting Stations
[
]
Merchants
[
]
Trivia
[
]
Cinfras is the central hub of Gavel. Many people visit there to trade and to chat.
Cinfras is an anagram for Francis, which is Salted's first name.
The airship center's name is Letvus Airbase.

This is an anagram of a GM, Selvut283.

There are some easter eggs in Cinfras.

Near the northern exit, in House 20, you can see a business called Arwins' Assassin-for-Hire. Inside of the building is Arwins himself, a neutral Lv 74 mob with 7000 HP.

The Siegfried Main Offices (House 28) can be found to the left of Ollie's Optometry.
There is a book about Siegfried in the house opposite of the Main Offices, which has a book about Siegfried in it.

Siegfried, Hero of Gavel
In recent times, Gavel has been threatened by many monsters. But whenever trouble lurks, the province can always depend on its legendary hero, Siegfried.
Everyone in Gavel has their own tale to tell about Siegfried's tremendous strength and skill. He has saved many lives.
Wynn may have had Bob as its hero, but Gavel has Siegfried. His books are all province wide best sellers! Bob doesn't even have a book!
The End.