Pomocník šéfkuchaře je krátký úkol pro level 4, odehrávající se v Ragni.
Úvod
[
]
Šéfkuchař v Ragni potřebuje pomoc. Proto povolá hráče, aby mu pomohl získat ingredience potřebné k upečení dortů pro nové rekruty přicházející do království.
Část 1
[
]
» Promluv si s šéfkuchařem v Ragni na [-853, 67, -1564]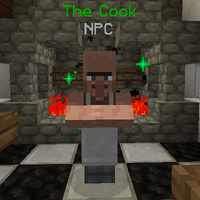 Dialog:
Šéfkuchař: Nemůžu věřit tomu, co se mi děje!
Šéfkuchař: Král mi přikázal, abych upekl dorty pro každého nového rekruta!
Šéfkuchař: Naneštěstí nemám potřebné ingredience, abych je mohl udělat a nikdo v pevnosti neprodává potřebné věci!
Šéfkuchař: Myslíš si, že bys mohl pro mě rychle získat

[2 Egg], [1 Bucket of Milk]

a

[3 Unprocessed Wheat]
Část 2
[
]
» Najdi 2 vajíčka, 1 mléko a 3 Unprocessed Wheat pro šéfkuchaře.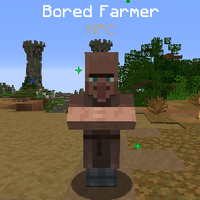 Dialog:
Znuděný farmář: Zdravím! Hledáš nějaké věci na vaření? S tím ti mohu pomoci.
Znuděný farmář: Pro získání

[Egg]

ti stačí zabít pár slepic.
Znuděný farmář:

[Bucket of Milk]

tu prodává místní ochodník hned vedle.
Znuděný farmář: Na získání

[Wheat Grains]

je potřeba si koupit kosu od obchodníka s nářadím a

kliknout pravým tlačítkem myši

a obilí poblíž. Ujisti se, že jsou všechny stejné kvality.
Část 3
[
]
» Vrať se k šéfkuchaři.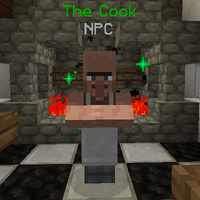 Dialog:
Šéfkuchař: Výborné! Získal jsi všechny ingredience!
Šéfkuchař: Nemůžu se ti dostatečně odvděčit! Vezmi si tyhle smaragdy a tuhle zbroj za všechny tvoje potíže.
Šéfkuchař: Měl/a bys prozkoumávat svět aby se ti zvětšila síla. Slyšel jsem, že by tu mohla být pro tebe práce v lesích Nivla.
Tipy
[
]
Drobnosti
[
]
Když "Quest update" vyšel, šéfkuchaře měl nametag: "1.". Toto však bylo brzy opraveno.
Tento úkol je podobný úkolu z Runescape, ve kterém musel hráč získat mléko, vajíčka a mouku (kliknutím na obilí), aby pomohl kuchaři upéct dort pro vévodovy narozeniny.
Na konci úkolu Enzanův bratr, Therck doporučuje hráči pomoct šéfkuchaři aby mohl používat prsten First Steps.

Na konci tohoto úkolu šéfkuchař doporučí hráči podívat se po práci v lesích Nivla, přičemž darované kalhoty vyžadují splnění Zamořené rostliny, vytvářející třetí část trilogie úvodních úkolů.