Line 15:
Line 15:
 

! 3-star/3-star

 

! 3-star/3-star

 

|-

 

|-

−

! 1

+

! 1

 

|

 

|

 

|

 

|

Line 22:
Line 22:
 

|

 

|

 

|-

 

|-

−

! 10

+

!

 

|

 

|

 

|

 

|

Line 29:
Line 29:
 

|

 

|

 

|-

 

|-

−

! 20

+

!

−

| 1265

+

|

 
+

|

 
+

|

 
+

|

 
+

|

 
+

|-

 
+

! 7-9

 
+

|

 
+

|

 
+

|

 
+

|

 
+

|

 
+

|-

 
+

! 10-13

 
+

|

 
+

|

 
+

|

 
+

|

 
+

|

 
+

|-

 
+

! 13-15

 
+

|

 
+

|

 
+

|

 
+

|

 
+

|

 
+

|-

 
+

! 15-17

 
+

|

 
+

|

 
+

|

 
+

|

 
+

|

 
+

|-

 
+

! 17-19

 
+

|

 
+

|

 
+

|

 
+

|

 
+

|

 
+

|-

 
+

! 20-23

 
+

|

 
+

|

 
+

|

 
+

|

 
+

|

 
+

|-

 
+

! 23-25

 
+

|

 
+

|

 
+

|

 
+

|

 
+

|

 
+

|-

 
+

! 25-27

 
+

|

 
+

|

 
+

|

 
+

|

 
+

|

 
+

|-

 
+

! 27-29

 
+

|

 
+

|

 
+

|

 
+

|

 
+

|

 
+

|-

 
+

! 30-33

 
+

|

 
+

|

 
+

|

 
+

|

 
+

|

 
+

|-

 
+

! 33-35

 
+

|

 
+

|

 
+

|

 
+

|

 
+

|

 
+

|-

 
+

! 35-37

 
+

|

 
+

|

 
+

|

 
+

|

 
+

|

 
+

|-

 
+

! 37-39

 
+

|

 
+

|

 
+

|

 
+

|

 
+

|

 
+

|-

 
+

! 40-43

 
+

|

 
+

|

 
+

|

 
+

|

 
+

|

 
+

|-

 
+

! 43-45

 
+

|

 
+

|

 
+

|

 
+

|

 
+

|

 
+

|-

 
+

! 45-47

 
+

|

 
+

|

 
+

|

 
+

|

 
+

|

 
+

|-

 
+

! 47-49

 
+

|

 

|

 

|

 

|

 

|

Line 36:
Line 155:
 

|

 

|

 

|-

 

|-

−

! 30

+

!

 

|

 

|

 

|

 

|

Line 43:
Line 162:
 

|

 

|

 

|-

 

|-

−

! 40

+

!

 

|

 

|

 

|

 

|

Line 50:
Line 169:
 

|

 

|

 

|-

 

|-

−

! 50

+

!

 

|

 

|

 

|

 

|

Line 57:
Line 176:
 

|

 

|

 

|-

 

|-

−

! 60

+

!

 

|

 

|

 

|

 

|

Line 64:
Line 183:
 

|

 

|

 

|-

 

|-

−

! 70

+

!

 

|

 

|

 

|

 

|

Line 71:
Line 190:
 

|

 

|

 

|-

 

|-

−

! 80

+

!

 

|

 

|

 

|

 

|

Line 78:
Line 197:
 

|

 

|

 

|-

 

|-

−

! 90

+

!

 

|

 

|

 

|

 

|

Line 85:
Line 204:
 

|

 

|

 

|-

 

|-

−

! 100

+

!

 

|

 

|

 

|

 

|
---
Revision as of 18:57, 13 April 2019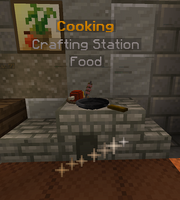 | | |
| --- | --- |
| | Attention: This page is still under construction and is incomplete. |
Attention: This page is still under construction and is incomplete.

Cooking is one of the eight Crafting Professions introduced in the 1.18 Economy Update. It involves using refined resources like Meats and Grains (gathered through the Fishing or Farming Professions respectively), along with certain Crafting Ingredients, to craft unique Food items. Cooking is performed at any of the Cooking Stations throughout the world.
Base Durations
Values are estimated, since the exact base duration varies randomly around a point. The base duration depends on the tier of materials used. 1-star/3-star is the same as 2-star/2-star (analogous with powder specials), therefore the former is not listed below.
Level
Base Duration (seconds)
1-star/1-star
1-star/2-star
2-star/2-star
2-star/3-star
3-star/3-star
1-3
3-5
5-7
7-9
10-13
13-15
15-17
17-19
20-23
23-25
25-27
27-29
30-33
33-35
35-37
37-39
40-43
43-45
45-47
47-49
50-53
53-55
55-57
57-59
60-63
63-65
65-67
67-69