Daggers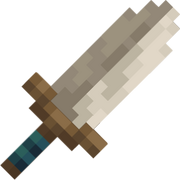 Daggers are weapons used by the Assassin and the Ninja class. Like other weapons, there are different rarities of daggers, and they range in damage, level and identifications.
Daggers can be obtained in the following ways:
Players are awarded Dodegar's Ultimate Weapon after completing The Ultimate Weapon.
Unidentified daggers have to be identified with emeralds using the Item Identifier before being used.
A dagger can only be used by assassins and ninjas who meet all the minimum level requirements of it.
Pressing left click while holding a dagger can deal melee damage to nearby mobs.
| Spell Name | Level Obtained | Command | Mana Cost | Spell Effect |
| --- | --- | --- | --- | --- |
| Spin Attack | 1 | Right-Left-Right | -5❋ | Attacks in a circular direction hitting enemies in every direction for a 5 block radius. |
| Vanish | 11 | Right-Right-Right | -1❋every second for three seconds | Make yourself invisible for a short amount of time and shoot yourself the direction you are facing 13 blocks. |
| Multi Hit | 21 | Right-Left-Left | -7❋ | Launch multiple hits on your enemies while they rise into the air (this is to balance not having knockback). |
| Smoke Bomb | 31 | Right-Right-Left | -8❋ | Throw a smoke bomb to your enemies, doing damage to mobs as those mobs are in range. |
Players can receive identification bonuses from the dagger that they are holding.
*Does not list set daggers, for information on set items click here.
| Weapon Name | Attack Speed | Damage | Min. Level |
| --- | --- | --- | --- |
| Oak Wood Dagger | Fast | 3-5 | 1 |
| Stone-hewn Dagger | Normal | 5-7 | 2 |
| Light Oak Wood Dagger | Very Fast | 2-6 | 4 |
| Birch Wood Dagger | Fast | 5-10 | 6 |
| Andesite-hewn Dagger | Normal | 8-14 | 8 |
| Light Birch Wood Dagger | Very Fast | 7-10 | 11 |
| Spruce Wood Dagger | Fast | 10-16 | 13 |
| Diorite-hewn Dagger | Normal | 15-22 | 15 |
| Light Spruce Wood Dagger | Very Fast | 10-14 | 17 |
| Jungle Wood Dagger | Fast | 14-19 | 19 |
| Granite-hewn Dagger | Normal | 23-31 | 22 |
| Light Jungle Wood Dagger | Very Fast | 14-18 | 25 |
| Flawless Oak Dagger | Fast | 20-27 | 28 |
| Flawless Stone Dagger | Normal | 30-35 | 30 |
| Flawless Light Oak Dagger | Very Fast | 19-27 | 33 |
| Flawless Birch Dagger | Fast | 28-38 | 36 |
| Flawless Andesite Dagger | Normal | 43-51 | 39 |
| Flawless Light Birch Dagger | Very Fast | 28-36 | 42 |
| Flawless Spruce Dagger | Fast | 42-54 | 45 |
| Flawless Diorite Dagger | Normal | 60-70 | 47 |
| Flawless Light Spruce Dagger | Very Fast | 37-47 | 50 |
| Flawless Jungle Dagger | Fast | 56-70 | 53 |
| Flawless Granite Dagger | Normal | 76-88 | 54 |
| Flawless Light Jungle Dagger | Very Fast | 45-55 | 55 |
| Pure Oak Wood Dagger | Fast | 62-78 | 56 |
| Pure Stone Dagger | Normal | 84-98 | 57 |
| Pure Light Oak Dagger | Very Fast | 52-64 | 59 |
| Pure Birch Dagger | Fast | 74-92 | 61 |
| Pure Andesite Dagger | Normal | 102-118 | 63 |
| Pure Light Birch Dagger | Very Fast | 63-77 | 65 |
| Pure Spruce Dagger | Fast | 88-110 | 67 |
| Pure Diorite Dagger | Normal | 121-139 | 69 |
| Pure Light Spruce Dagger | Very Fast | 72-88 | 70 |
| Pure Jungle Dagger | Fast | 100-124 | 72 |
| Pure Granite Dagger | Normal | 136-156 | 74 |
| Pure Light Jungle Dagger | Very Fast | 84-100 | 76 |
| Impeccable Stone Dagger | Normal | 158-180 | 80 |
| Impeccable Light Oak Dagger | Very Fast | 96-116 | 82 |
| Impeccable Birch Dagger | Fast | 131-163 | 84 |
| Impeccable Andesite Dagger | Normal | 180-204 | 86 |
| Impeccable Light Birch Dagger | Very Fast | 112-134 | 89 |
| Impeccable Spruce Dagger | Fast | 154-188 | 91 |
| Impeccable Diorite Dagger | Normal | 210-236 | 93 |
| Impeccable Light Spruce Dagger | Very Fast | 126-152 | 95 |
| Impeccable Jungle Dagger | Fast | 175-210 | 97 |
| Impeccable Granite Dagger | Normal | 230-260 | 98 |
| Impeccable Light Jungle Dagger | Very Fast | 135-160 | 98 |
| Name | Lv. Min | Quest Req | Neutral Dam. | Earth Dam. | Thunder Dam. | Water Dam. | Fire Dam. | Air Dam. | Str. Min | Dex. Min | Int. Min | Def. Min | Agi. Min | Attack Speed | Slots |
| --- | --- | --- | --- | --- | --- | --- | --- | --- | --- | --- | --- | --- | --- | --- | --- |
| Slicer | 1 | - | 7-9 | - | - | - | - | ? | - | - | - | - | - | Normal | ? |
| Spyrr | 3 | - | 6-8 | - | - | - | - | ? | - | - | - | - | - | Fast | ? |
| Switch Blade | 5 | - | 7-12 | - | - | - | - | ? | - | - | - | - | - | Fast | ? |
| Bolt | 8 | - | 3-10 | - | 1-9 | - | - | ? | - | 4 | - | - | - | Fast | ? |
| Fatigue | 8 | - | 24-32 | - | - | - | - | ? | - | - | - | - | - | Very Slow | ? |
| Thief's Dagger | 8 | - | 5-11 | - | - | - | - | ? | - | - | - | - | 2 | Very Fast | ? |
| Scout Dagger | 10 | - | 10-22 | - | - | - | - | ? | - | - | - | - | - | Fast | ? |
| Eleven | 11 | - | 11-11 | - | - | - | - | ? | - | - | - | - | - | Very Fast | ? |
| Claw | 13 | - | 13-15 | - | - | - | - | ? | - | - | - | - | - | Fast | ? |
| Shadow Blade | 14 | - | 4-15 | - | - | - | - | 1-8 | - | - | - | - | - | Very Fast | 1 |
| Digested Dagger | 16 | - | 16-23 | - | - | - | - | ? | - | - | - | - | - | Fast | ? |
| Yahya's Nail Clipper | 17 | - | 18-24 | 0-8 | - | - | - | ? | - | - | - | - | - | Normal | ? |
| The Wool Trimmer | 20 | - | 7-14 | - | - | 5-10 | - | ? | - | - | - | - | - | Very Fast | ? |
| Regrets | 23 | - | 10-14 | - | - | 10-14 | - | ? | - | - | 8 | - | - | Normal | ? |
| Saint's Scar | 24 | - | 19-24 | 8-15 | - | - | - | ? | 10 | - | - | - | - | Normal | ? |
| Fishing Hook | 26 | - | 12-16 | - | 2-6 | 8-14 | - | ? | - | 5 | 5 | - | - | Fast | ? |
| Ocelot Claw | 27 | - | 10-12 | - | 1-20 | - | - | ? | - | - | - | - | - | Very Fast | ? |
| Sickle | 28 | - | 5-30 | - | - | - | - | 5-20 | - | - | - | - | 15 | Fast | 1 |
| Clawctus | 31 | - | 20-26 | - | 1-16 | - | - | ? | - | - | - | - | - | Fast | ? |
| Devil's Scissor | 31 | - | 16-24 | - | 16-24 | - | 16-24 | ? | - | 10 | - | 10 | - | Slow | ? |
| Drought Savior | 33 | - | 18-24 | - | - | 14-22 | - | ? | - | - | 15 | - | - | Normal | ? |
| Lacerator | 33 | - | 15-45 | - | - | - | - | ? | - | - | - | - | - | Very Fast | ? |
| Steel Sabre | 35 | - | 42-58 | 18-22 | - | - | - | ? | - | - | - | - | - | Slow | ? |
| The Mind | 37 | - | 20-24 | - | - | 16-26 | - | ? | - | - | 20 | - | - | Normal | ? |
| HellRaiser | 38 | - | 30-35 | - | - | - | 26-36 | ? | - | - | - | 10 | - | Normal | ? |
| Whisper | 38 | - | 20-30 | - | - | - | - | ? | - | - | - | - | 20 | Fast | ? |
| Ghostly Blades | 40 | - | - | - | - | 13-17 | - | 13-17 | - | - | 15 | - | 15 | Super Fast | 2 |
| Obsidian | 41 | - | 40-50 | 38-52 | - | - | - | ? | 30 | - | - | - | - | Slow | ? |
| Snowslicer | 41 | - | 23-32 | - | - | 18-29 | - | ? | - | - | 15 | - | - | Fast | ? |
| Celsius | 42 | - | 11-17 | - | - | 20-28 | - | ? | - | - | 20 | - | 15 | | ? |
| Kanata | 43 | - | 12-32 | - | - | - | - | ? | - | - | - | - | 20 | Fast | ? |
| Dissector | 44 | - | 44-46 | - | - | - | - | ? | - | - | - | - | - | Very Fast | ? |
| Handmade Bucie Knife | 45 | - | 48-58 | - | - | - | 34-56 | ? | - | - | - | - | - | Slow | ? |
| Butcher's Clever | 46 | - | 40-55 | - | - | 40-55 | - | ? | - | - | 15 | - | - | Slow | ? |
| Twin Daggers | 49 | - | - | - | 15-25 | - | - | ? | - | 20 | - | - | 20 | Super Fast | ? |
| Vampire Touch | 51 | - | 50-90 | - | 5-10 | - | - | ? | - | 12 | - | - | - | Fast | ? |
| Seraph | 52 | - | 27-45 | - | - | - | - | ? | - | - | 5 | - | 20 | Normal | ? |
| Flaming Fangs | 54 | - | 56-68 | - | - | - | 32-42 | ? | - | - | - | - | - | Normal | ? |
| Couteau | 56 | - | 62-66 | - | - | - | - | ? | - | - | - | - | - | Super Fast | ? |
| Kitten Claw | 57 | - | 12-24 | - | 18-54 | - | - | ? | - | - | - | - | - | Very Fast | ? |
| Souffle | 58 | - | - | - | - | - | - | ? | - | - | - | - | 28 | Normal | ? |
| Wild Gauntlet | 60 | - | 59-74 | 48-63 | - | - | - | ? | 25 | - | - | - | - | Normal | ? |
| Tactical Kukri | 61 | - | 56-72 | - | - | - | 34-40 | ? | - | - | - | 35 | - | Fast | ? |
| Sapphire Shard | 63 | - | 23-28 | - | - | 52-67 | - | - | - | - | 20 | - | - | Fast | 3 |
| Bladestorm | 65 | - | 15-18 | - | 20-26 | - | - | ? | - | - | - | - | - | Very Fast | ? |
| Arakadicus' Claw | 66 | - | 80-100 | 120-190 | 20-130 | - | - | ? | 20 | 20 | - | - | - | Very Slow | ? |
| Giant Claw | 68 | - | 115-135 | - | - | - | - | ? | - | - | - | - | - | Fast | ? |
| Crystal Senbon | 70 | - | 99-101 | - | - | - | - | ? | 10 | 10 | 10 | 10 | 10 | Very Fast | ? |
| Searing Knife | 72 | - | 85-110 | - | - | - | 45-70 | ? | - | - | - | 30 | - | Normal | ? |
| Wayfinder | 74 | - | 86-100 | - | - | 38-49 | - | ? | - | - | 15 | - | 20 | Normal | ? |
| Block Buster | 76 | - | 130-180 | 90-110 | - | - | - | ? | 35 | - | - | - | - | Slow | ? |
| Plasma Shear | 78 | - | - | - | 30-42 | - | 37-52 | ? | - | 20 | - | 25 | - | Super Fast | ? |
| Quill | 80 | - | 80-90 | - | - | - | - | ? | - | - | 10 | - | 30 | Fast | ? |
| Droplets | 82 | - | 102-125 | - | - | 72-98 | - | ? | - | - | 50 | - | - | Fast | ? |
| Nether's Deep | 84 | - | 70-100 | - | 20-70 | - | 40-60 | ? | - | 15 | - | 35 | - | Normal | ? |
| Sans | 85 | - | 200-250 | - | - | - | - | ? | - | - | - | - | - | Normal | ? |
| Poison Touch | 87 | - | - | 30-60 | - | - | - | ? | - | - | - | - | - | Very Slow | ? |
| Nimbus | 89 | - | - | - | - | 40-65 | - | ? | - | - | 25 | - | 30 | Normal | ? |
| Copper Knife | 91 | - | 120-155 | - | 60-75 | - | - | ? | - | 40 | - | - | - | Fast | ? |
| Magmarizer | 93 | - | 135-180 | - | - | - | 65-85 | ? | - | - | - | 55 | - | Normal | ? |
| Waterspout | 95 | - | 55-120 | - | 45-155 | 80-95 | - | ? | - | 25 | 35 | - | - | Fast | ? |
| Dancing Blade | 98 | - | 60-75 | - | - | - | - | ? | - | - | - | - | 50 | Super Fast | ? |
| Pencuri | 100 | - | 175-275 | - | - | - | - | - | - | 60 | - | - | - | Fast | ? |
| Name | Lv. Min | Quest Req | Neutral Dam. | Earth Dam. | Thunder Dam. | Water Dam. | Fire Dam. | Air Dam. | Str. Min | Dex. Min | Int. Min | Def. Min | Agi. Min | Attack Speed | Slots |
| --- | --- | --- | --- | --- | --- | --- | --- | --- | --- | --- | --- | --- | --- | --- | --- |
| Voodoo | 2 | - | 2-10 | - | - | - | - | - | - | - | - | - | - | Fast | 1 |
| Pin | 6 | - | 24-25 | - | - | - | - | - | - | - | - | - | - | Slow | - |
| Striker | 9 | - | 1-9 | - | - | - | - | 4-6 | - | - | - | - | 4 | Very Fast | 1 |
| Butter Knife | 14 | - | 12-19 | - | - | - | - | - | - | - | - | - | - | Very Fast | 1 |
| Euthanasia | 17 | - | 1-2 | - | - | - | - | - | - | - | - | - | - | Slow | - |
| Spicy | 18 | - | 10-20 | - | - | - | 12-14 | - | - | - | - | 8 | - | Fast | 1 |
| Someone Else's Knife | 19 | - | 32-40 | - | - | - | - | - | - | - | - | - | - | Normal | - |
| Charon's Left Arm | 21 | - | 15-21 | 10-17 | 8-13 | - | - | - | 7 | 7 | - | - | - | Slow | 2 |
| Embers | 25 | - | 16-30 | - | - | - | 11-19 | - | - | - | - | 10 | - | Normal | 2 |
| Phantom Blade | 29 | - | - | - | - | 12-16 | - | 12-16 | - | - | 10 | - | 10 | Very Fast | 1 |
| Scalpel | 33 | - | 26-28 | - | - | - | - | - | - | 15 | - | - | - | Super Fast | 1 |
| Stylist's Scissors | 36 | - | 28-48 | - | 18-54 | - | - | - | - | 15 | - | - | - | Normal | 2 |
| Jolt of Inspiration | 40 | - | 21-30 | - | 13-22 | 11-14 | - | - | - | 10 | 15 | - | - | Fast | 2 |
| Katana | 42 | - | 74-75 | - | - | - | - | - | - | - | - | - | - | Fast | - |
| Spike | 50 | - | 75-93 | 24-40 | - | - | - | - | 20 | - | - | - | - | Normal | 1 |
| Crowbeak | 53 | - | 30-60 | - | 14-36 | - | - | - | - | - | - | - | - | Fast | 2 |
| Squid Dagger | 56 | - | 60-90 | - | - | 40-60 | - | - | - | - | 25 | - | - | Normal | 2 |
| Skien's Paranoia | 60 | - | 50-80 | - | - | - | - | - | - | - | - | - | - | Super Fast | 2 |
| Bull | 63 | - | 30-60 | 40-80 | - | - | 20-40 | - | - | - | - | - | - | Very Fast | 3 |
| Leikurri | 67 | - | 65-83 | - | - | - | 25-33 | 30-39 | - | - | - | 10 | 30 | Fast | 2 |
| Crossroad Killer | 70 | - | 325-375 | - | 200-500 | - | - | - | - | 70 | - | - | - | Super Slow | - |
| Throatcut | 76 | - | 77-177 | - | - | - | 77-177 | 77-177 | - | - | - | 35 | 15 | Very Slow | 2 |
| Roulette | 79 | - | 0-11 | - | 0-11 | - | - | - | - | 40 | - | - | - | Super Fast | - |
| Sreggad | 85 | - | 10-15 | - | - | - | - | - | - | - | - | - | - | Fast | - |
| Mountain Spirit | 86 | The Lost | 90-120 | - | 10-50 | - | - | 60-100 | - | 20 | - | - | 50 | Fast | 2 |
| Pyroclast | 88 | - | 95-135 | 75-95 | - | - | 120-150 | - | 25 | - | - | 40 | - | Slow | 3 |
| Liquified Sun | 92 | - | 25-30 | - | 85-115 | - | 110-140 | - | - | 30 | - | 40 | - | Normal | 2 |
| Tsunasweep | 94 | - | 60-100 | - | 40-120 | 70-80 | - | - | - | 25 | 50 | - | - | Fast | 1 |
| Silver | 96 | - | 66-105 | - | - | - | - | 110-149 | - | - | 50 | - | 35 | Very Fast | 3 |
| Arakadicus' Maw | 98 | - | 200-260 | 250-325 | - | - | - | - | 55 | - | - | - | - | Slow | 2 |
| Blur | 100 | - | - | - | 50-95 | - | - | 65-85 | - | 40 | - | - | 40 | Super Fast | 3 |
| Name | Lv. Min | Quest Req | Neutral Dam. | Earth Dam. | Thunder Dam. | Water Dam. | Fire Dam. | Air Dam. | Str. Min | Dex. Min | Int. Min | Def. Min | Agi. Min | Attack Speed | Slots |
| --- | --- | --- | --- | --- | --- | --- | --- | --- | --- | --- | --- | --- | --- | --- | --- |
| Dislocator | 9 | - | 22-31 | - | - | - | - | - | - | - | - | - | - | Slow | - |
| Iron Knuckle | 15 | - | 14-17 | 5-10 | - | - | - | - | 10 | - | - | - | - | Very Fast | - |
| Almuj's Daggers | 20 | - | 11-16 | - | 5-16 | - | - | - | - | 15 | - | - | 8 | Super Fast | 1 |
| The Divide | 26 | - | - | 1-21 | 1-21 | 1-21 | 1-21 | 1-21 | 5 | 5 | 5 | 5 | 5 | Normal | 1 |
| Stabsand | 32 | - | 10-190 | - | - | - | - | 15-20 | - | - | - | - | - | Slow | 1 |
| Influence | 38 | - | 81-99 | - | - | - | - | - | - | - | - | - | - | Normal | 3 |
| Kilij | 40 | - | - | 2-4 | - | - | - | 0-5 | 20 | - | - | - | 20 | Fast | 5 |
| Scorpion | 44 | - | 90-120 | - | - | - | - | - | - | - | - | - | - | Normal | 2 |
| Reaper of Soul | 51 | - | 90-170 | - | - | - | - | - | - | - | - | - | - | Normal | 2 |
| Impulse | 53 | - | 0-229 | 126-371 | 126-371 | - | - | - | 25 | 25 | - | - | - | Very Slow | 2 |
| Olux's Prized Dagger | 55 | The Shadow of the Beast | 25-45 | 55-60 | - | 25-40 | - | - | - | - | - | - | - | Fast | 2 |
| Locrian | 57 | - | - | - | 15-50 | 27-30 | - | 20-32 | - | 15 | 20 | - | 15 | Very Fast | 2 |
| The Exile | 65 | - | 100-125 | - | - | - | 40-60 | - | - | - | - | 50 | - | Normal | 2 |
| Babylon's Scale | 65 | - | - | - | - | - | - | 10-400 | - | - | - | - | 65 | Normal | 2 |
| Chakram | 70 | - | 35-50 | - | 10-65 | - | - | 25-35 | - | 60 | - | - | - | Very Fast | 3 |
| Bob's Mythic Daggers | 75 | Reincarnation | 200-250 | - | - | - | - | - | - | - | - | - | - | Fast | 3 |
| Dodegar's Ultimate Weapon | 75 | The Ultimate Weapon | 1-3 | - | - | - | - | - | - | - | - | - | - | Fast | - |
| Rewind | 80 | - | 25-50 | - | - | 35-40 | - | 15-60 | - | - | - | - | - | Super Fast | 2 |
| Alazarin | 89 | - | 180-300 | - | - | - | - | - | 15 | 15 | 15 | 15 | 15 | Fast | 5 |
| Sitis | 99 | - | 230-270 | - | - | 60-100 | - | - | - | - | 75 | - | - | Fast | 3 |
| Black | 99 | - | 50-75 | - | 30-95 | - | 40-80 | - | - | 35 | - | 35 | - | Super Fast | 3 |
| Hive Infused Daggers | 100 | The Qira Hive | 200-300 | - | - | - | - | - | - | - | - | - | - | Very Fast | 5 |
| Name | Lv. Min | Neutral Dam. | Earth Dam. | Thunder Dam. | Water Dam. | Fire Dam. | Air Dam. | Str. Min | Dex. Min | Int. Min | Def. Min | Agi. Min | Attack Speed | Slots |
| --- | --- | --- | --- | --- | --- | --- | --- | --- | --- | --- | --- | --- | --- | --- |
| Archangel | 69 | 20-60 | - | - | - | - | 160-180 | - | - | - | - | 70 | Fast | 3 |
| Weathered | 96 | 50-100 | - | - | - | - | 150-350 | - | - | - | - | 110 | Very Fast | 3 |
| Grimtrap | 96 | 245-315 | 425-555 | - | - | - | - | 90 | - | - | - | - | Slow | 3 |
| Cataclysm | 96 | 70-210 | - | 70-450 | - | - | - | - | 115 | - | - | - | Super Fast | 3 |
| Nirvana | 97 | - | - | - | 370-450 | - | - | - | - | 110 | - | - | Normal | 3 |
| Inferno | 97 | - | - | - | - | 390-460 | - | - | 10 | - | 105 | - | Fast | 2 |
| Nullification | 95 | - | 70-90 | 30-130 | 50-110 | 60-100 | 40-120 | 30 | 30 | 30 | 30 | 30 | Fast | 3 |