Enzanův bratr
Info o úkolu
Délka

Krátká

Lokace
Ragni
Provincie
Wynn
Level
1
NPC spouštějící úkol
Enzan
Odměna
Je následující:
Enzanův bratr je krátký úkol pro level 1. Odmění hráče nějakými zkušenostmi a prstenem.
Úvod
[
]
Tento úkol slouží jako úvod pro základy úkolů. Enzan, vysloužilý rytíř, zaúkoluje hráče aby našel jeho bratra, Thercka, k získání užitečného předmětu. Therck pošle hráče do nedaleké jeskyně pro houbu a poté konečně bude hráči nabídnut prsten First Steps (první krůčky).
Část 1
[
]
» Promluv si s Enzanem nedaleko Ragnijské brány na souřadnicích [-772, 67, -1572].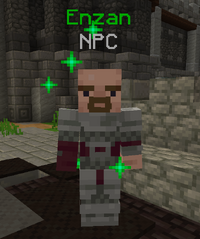 Dialog:
Enzan: Vidím že se chceš vydat do divočiny!
Enzan: Mé jméno je Enzan a jsem nyní již vysloužilý rytíř. Většinu svého života jsem bojoval v Ragnijské armádě, stejně jako ty.
Enzan: Vím jak těžké musí být rekrutem v těchto časech, takže pro tebe mám něco co ti pomůže! Teda, já to nemám, ale můj bratr ano!
Enzan: Následuj tuhle cestu, je hned za Identifikátorem Předmětů, nemůžeš ho minout.

Stačí když zamíříš k obrovským schodům za Identifikátorem Předmětů.

Enzan: Řekni mu, že jsem tě poslal! Někdy se může vůči cizincům chovat opravdu ošklivě, a to hlavně když je soustředěný na své schody...
Část 2
[
]
» Najdi Enzanova bratra poblíž Identifikátora na Smaragdové Stezce na souřadnicích [-536, 67, -1589]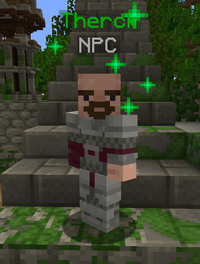 Dialog:
Therck: Co prosím? Nevidíš že mám práci?
Therck: Oh, můj bratr? Omlouvám se, neměl jsem tušení.
Therck: Že se ptáš, vlastně mám něco co by ti mohlo pomoci...
Therck: Ale než ti to dám, proč mi nejdříve s něčím nepomůžeš?
Therck: Víš, existuje jedna speciální houba, která roste v téhle jeskyni. Slyšel sem že má různé... povzbuzovací vlastnosti.
Therck: Pokud mi přineseš jednu [1 Energy Mushroom], pomůžu ti.

Jdi dolů po schodech a vstup do jeskyně a pak mi přines tu houbu!
Část 3
[
]
» Sestup do jeskyně na souřadnicích [-538, 67, -1586] a přines Therckovi 1 Energy Mushroom.
Image
Name
Level
Health
AI Type
Abilities
Elemental Stats
Drops
Location
ShroomBones
3
12
Melee AI
-
-
-
Cave at [-538, 67, -1586]
Animated Shroom
2
18
Ranged AI
-
-
-
Cave at [-538, 67, -1586]
Mushroom Pigman
6
39
Jumper AI
-

✤ Def

-
Cave at [-538, 67, -1586]
Energized Mushroom
7
25
Melee AI
-
-

Energy Mushroom
Cave at [-538, 67, -1586]
Exit
Po zabití Energized Mushroom se ukáže tento text: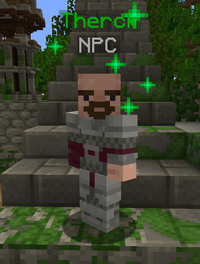 Dialog:
Therck: Ah, jsi zpátky! Máš tu houbu?
Therck: Skvělé... Nyní budu možná konečně schopen vylézt tyto schody!
Therck: Kdo ví, třeba je tam nahoře poklad?
Therck: Vem si tento prsten. Je to doplňkový předmět! Můžeš si ho

identifikovat u nedalekého Identifikátora.

Therck: Pro někoho jako jsi ty, kdo právě začíná, je to velmi dobrý prsten. Je tu jen jeden malý problém...
Therck: Aby sis ho mohl nasadit, musíš pomoci mému příteli v Ragni. Už celé dny mě otravuje s tím že potřebuje pomoc.
Therck: Otevři svou

[Úkolovou knížku]

a klikni pravým tlačítkem myši na úkol Pomocník šéfkuchaře a jdi se podívat, jestli mu můžeš pomoci.
Tipy
[
]
Drobnosti
[
]
Tento úkol prošel několika změnami.

V aktualizaci 1.18 The Economy Update byl pozměněn aby hráče naučil více o přísadách a nahradil starou odměnu prášek levelu I na přísadu levelu II.
V aktualizaci 1.20 Gavel Reborn byl změněn znovu aby představil doplňky místo přísad a úkol se také trochu prodloužil.