Enzan Testvére
Küldetés infó
Hossz

Rövid

Helyszín
Smaragd Ösvény
Provincia
Wynn
Kezdő NPC
Enzan
Jutalom
A következők:
Enzan Testvére egy rövid, 1-es szintű küldetés. Egy gyűrűvel és egy kevés tapasztalati ponttal jutalmazza meg a játékost.
Előzmény
[
]
Eme küldetés vezet be a küldetések alapjaiba. Enzan, egy nyugalmazott lovag, megbízza a játékost, hogy találja meg testvérét, Thercket, annak érdekében, hogy hozzájusson egy hasznos tárgyhoz. Amint a játékos megtalálja Thercket, ő elküldi a játékost egy közeli barlangba, hogy visszahozzon egy gombát, mielőtt végre felajánlja neki az Első Lépések nevű gyűrűt.
1. Szakasz
[
]
» Beszélj Enzannal közel Ragni kijáratához [-772, 67, -1572]-nál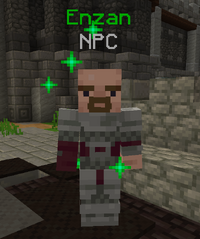 Párbeszéd:
Enzan: Úgy látom kiakarsz merészkedni a vadonba!
Enzan: A nevem Enzan, s már egy nyugalmazott lovag vagyok. Az életem nagy részét azzal töltöttem, hogy Ragni seregében harcoltam, pont mint te.
Enzan: Tudom milyen nehéz lehet újoncnak lenni mostanság, szóval van valamim ami segíthet neked. Nos, valójában nekem nincs, de a testvéremnek igen!
Enzan: Kövesd ezt az utat, pont a tárgy beazonosító után találod őt, nem tudod eltéveszteni.

Csak menj a nagy lépcsőhöz, a tárgy beazonosító után.

Enzan: Mondd neki, hogy én küldtelek! Néha olyan bunkó tud lenni az idegenekkel, főleg amikor a lépcsőre fókuszál...
2. Szakasz
[
]
» Találd meg Enzan testvérét közel a tárgy beazonosítóhoz a Smaragd Ösvényen [-536, 67, -1589]-nál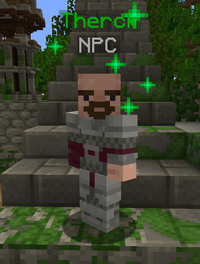 Párbeszéd:
Therck: Elnézést? Nem látod, hogy elfoglalt vagyok?
Therck: Ó, a testvérem? Bocsánat, nem tudtam.
Therck: Hogyne, ami azt illeti van valamim ami segíthet neked...
Therck: De mielőtt odaadnám, miért nem segítesz nekem te valamiben előbb?
Therck: Mint látod, egy speciális fajtájú gomba nő ebben a barlangban. Úgy tudom, bizonyos... energetizáló tulajdonságokkal rendelkezik...
Therck: Ha tudsz nekem hozni [1 energiagomba]-t, akkor kitudlak segíteni.

Lépj be a barlangba a lépcső aljánál és hozz nekem olyan gombát.
3. Szakasz
[
]
» Ereszkedj le a barlangba [-538, 67, -1586]-nál és hozz 1 energiagombát Thercknek.

Image
Name
Level
Health
AI Type
Abilities
Elemental Stats
Drops
Location
KalaposCsontok (ShroomBones)
3
12
Melee AI
-
-
-
Barlang [-538, 67, -1586]-nál
Animált Galóca (Animated Shroom)
2
18
Ranged AI
-
-
-
Barlang [-538, 67, -1586]-nál
Gomba Malacember (Mushroom Pigman)
6
39
Jumper AI
-

✤ Def

-
Barlang [-538, 67, -1586]-nál
Energetizált Gomba (Energized Mushroom)
7
25
Melee AI
-
-

Energiagomba
Barlang [-538, 67, -1586]-nál
Kijárat
Az Energetizált Gomba megölése után az alábbi szöveg írodik ki: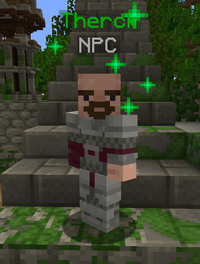 Párbeszéd:
Therck: Áhh, visszatértél! Megvan a gomba?
Therck: Kitűnő... Mostmár talán feltudok végre mászni ezen a lépcsőn!
Therck: Kitudja, talán kincset rejt ott fenn.
Therck: Fogd ezt a gyűrűt. Ez egy kiegészítő! Be tudod

azonosítani a közeli Tárgy Beazonosítónál.

Therck: Ez egy kiváló gyűrű azok számára, kik úgy kezdik, mint te. Csak van egy kis probléma...
Therck: Ahhoz, hogy viseld, segítened kell egy barátomnak Ragniban. Már napok óta zaklat, hogy segítségre van szüksége.
Therck: Nyisd meg a [Küldetéskönyv]-ed és jobb-klikkelj a Szakács Asszisztensre, nézd meg tudsz-e neki segíteni.
Tippek
[
]
Enzan testvére, Therck, a Smaragd Ösvényen található; csak kövesd az utat Ragni keleti kapujától.
Apróságok
[
]
Ez a küldetés egy csomó változtatáson esett át.