Enzan's Brother
Quest Info
Length
Curta
Location
Ragni
Province
Wynn
Starter NPC
Enzan
Reward
As follows:
Enzan's Brother é uma missão curta de nível 1 quest. que tem como recompensa um anel e uma quantidade pequena de experiencia
Prévia
[
]
Essa é uma missão que introduz o jogador aos básicos de missões Enzan, um guarda aposentado dá a tarefa para o jogador que encontre o seu irmão perdido, Therck, para obter um item usável. Quando o jogador encontrar Therck, ele o enviará para uma caverna próxima para trazer um cogumelo antes de entregá-lo o anel First Steps.
Estágio 1
[
]
» Fale com Enzan perto da saida de ragni [-772, 67, -1572]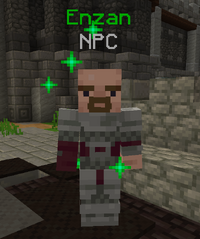 Diálogo:
Enzan: Eu vejo que você quer uma aventura dentro dessa região selvagem!
Enzan: Meu nome é Enzan, e eu sou um guarda aposentado. Eu passei a maior parte da minha vida lutando pelo exército de ragni, como você.
Enzan: Eu sei que pode ser dificil ser um recruta nesses tempos, então eu tenho algo que pode te ajudar! Bem, eu não tenho, mas meu irmão tem!
Enzan: Siga esta estrada, ele estará logo após o item identifier, você não pode errar ele .

Apenas precisa seguir para a grande escada passando pelo item identifier.

Enzan: Fale para ele que eu te enviei! Ele pode ser um idiota com estranhos às vezes, especialmente quando ele está focado em suas escadas...


Estágio 2
[
]
» Encontre o irmão de Enzan perto do identificador de items na Estrada de Esmeraldas [-536, 67, -1589]
Therck está por volta de 200 blocos de distância da saída principal do castelo de Ragni.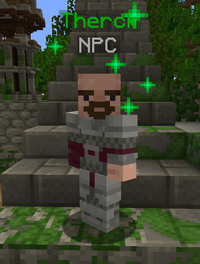 Diálogo:
Therck: Me desculpe? Você não está vendo que eu estou ocupado?
Therck: Oh, Meu irmão? Desculpa, eu não sabia
Therck: Porque sim, na verdade eu tenho algo que pode te ajudar...
Therck: Mas antes de eu te dar, por que você não me ajuda com algo primeiro?
Therck: Você vê, tem um cogumelo especial que cresce nesta caverna. Eu ouvi que ele tem certas... propriedades energizadas.
Therck: se você me trouxer um [1 Energy Mushroom], eu posso te ajudar.

Entre na caverna abaixo das escadas e me traga esse cogumelo!
Estágio 3
[
]
» Descendo a caverna em [-538, 67, -1586] e trazendo um Energy Mushroom para Therck.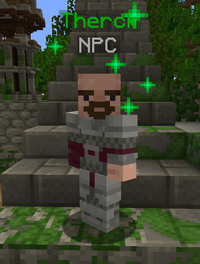 Diálogo:
Therck: Ah, você voltou! Você tem o cogumelo?
Therck: Excelente... Agora eu sou apto para finalmente subir essas escadas!
Therck: Quem sabe, talvez tenha um tesouro ali em cima?
Therck: Pegue o anel, é um item de acessório! Você pode identificar ele no item identifier aqui perto.

identify it at the nearby Item Identifier.

Therck: É um anel muito bom para quem está começando, como você. Tem apenas um problema
Therck: Para usá-lo, você deve ajudar meu amigo em Ragni. Ele está me importunando há dias sobre a necessidade de ajuda.
Therck: Abra seu

[Quest Book]

e

Clicke com o botão direito em Cook Assistant

para ver se você pode ajudar.
Dicas
[
]
Irmão de Enzan, Therck, está na Emerald Trail; Apenas siga a estrada pela saída principal de Ragni.
História
[
]
Esta missão passou por diversas mudanças.

Em 1.18 The Economy Update mudou para ensinar os jogadores melhor sobre os ingredientes e substituiu a antiga recompensa, uma powder nível I em um ingrediente nível 2
Na 1.20 Gavel Reborn ela mudou de novo (previous version: Enzan's Brother (1.19)) para mostrar acessórios ao invés de ingredientes, e a missão ficou um pouco maior.