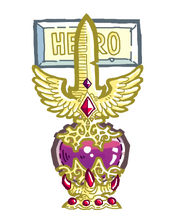 HERO is the second most expensive donator rank in Wynncraft, costing $79.99. You can purchase ranks at the Wynncraft Store.
Features
[
]
Purple name
Mob Totems - HEROs get six a day, all lasting 30 Minutes total (5 Minutes each)
One daily T2 Loot Crate
Instant access to future Wynncraft betas
An additional 3 class slots for a total of 13 class slots
Access to tier 3 weapon class icons
Trivia
[
]
Many community members consider HERO a rank for those who just want to support Wynncraft, as it has very few additional upgrades from V.I.P.+.
HERO's price was reduced from $99.99 to $79.99.
The "[Vet]" tag is also available for HEROs; you can enable it using "/toggle vet" if you bought a rank before August 1st, 2014.