Jofash Docks
Jofash Docks



A screenshot of Jofash Docks

Discovery Lore

A port town filled with odd residents and drunken sailors, Jofash Docks is the only entryway to Gavel outside of the main gate.
Access
Coordinates
X: 1310, Z: -4050
Suggested Level
90
Quests
Quest Starts
Fantastic Voyage
Environment
Type/Biomes
Beach
Battle
Monsters
Coconut Crustacean
Jofash Docks is a small harbor town located south of the Sky Islands. Just north of the docks and the tropical beach they reside on is an entrance into the Sky Islands, which is the only entrance into the Gavel Province apart from the main gate at Llevigar Port. Unlike Llevigar, however, no merchants can be found in Jofash Docks as it is not an official spawnpoint town. The entrance to Gavel from Jofash is also considerably more dangerous than that of Llevigar, as the tunnel to the Sky Islands is overrun by various Dragonling mobs.
Although it's officially a level 90 area, along with the fact it's only quest, Fantastic Voyage, is level 90 as well, the hostile mobs of the area are based around level 70, allowing for players of that level to travel to the Docks without much trouble.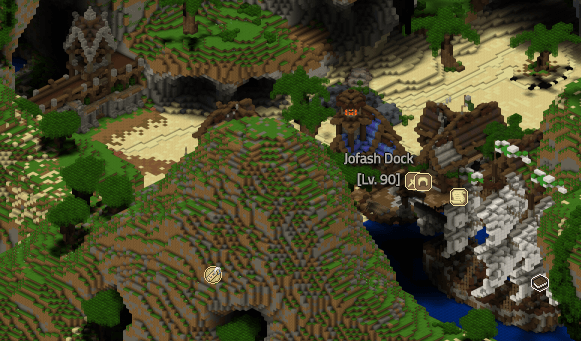 The V.S.S. Seaskipper is located nearby the Little Wing, but is not docked on the port. The Seasail Merchant sells passes to the three major port cities.
Relend's vessel, the Little Wing is docked in the south, on the port.
To the north, lies a gate leading into the Sky Islands. Beware, as there are high level mobs that pack a punch.
"Jofash" is a partial anagram of Shtafjord, a former Wynncraft builder.