Lost Farmers

This page contains spoilers. Readers are discouraged from continuing if they want to discover features by themselves.
Lost Farmers

Discovery Lore

Unable to travel safely, farmers in Olux generally live a lonely life. Few people noticed when they began to disappear.
Access
Coordinates
X: -1981, Z: -5267
Suggested Level
45
Usage
Uses
Discovery
Requirements
None
Lost Farmers is a Secret Discovery located in the Olux Swamp.
Go to the house at the coordinates above.
It's a pile of unopened letters.
The latest one is dated at almost a year ago.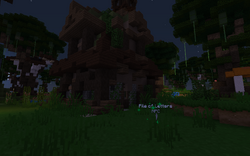 Break the window of the house.
This looks like it'd break if you punched it hard enough.
When you click on the Old Advertisement it will say:
It's an old advertisement, probably from a newspaper:
VOLUNTEERS NEEDED!
Are you struggling financially?
Do you need to earn a quick emerald?
If you answered yes to either of those questions, this is the PERFECT opportunity for you!
Come visit us in Olux! If you are in need for more information, ask for Dr. Urelix.