Lutho is a town located in the Silent Expanse. It is the final destination in the quest A Journey Beyond. It is currently the highest level city in the game.
Two quests, A Journey Further and Point of No Return start from Lutho.
History
[
]
When the human miners from Fruma uncovered the Silent Expanse through the Abandoned Mines,[1][2] they entered the dark land and travelled through the region, eventually stopping at the end of the Eyeball Forest. Here, they founded Lutho as a safe haven for themselves, defended by domesticated Kantry but still under threat of the creatures of the Expanse.[3]
At some point, the Light erected the Obelisk in the center of Lutho to give the citizens a beacon of hope.[4] The Light offered the miners an escape from the miserable lives they were leading, by sending their souls into an alternate version of Lutho called "Happy Lutho", where the Darkness never took over the Silent Expanse. [5]
Most of the inhabitants accepted the offer, becoming hollow shells of bodies kept alive by the Light, while their souls were sent to the utopia-like alternate world. Although one citizen refused to take the offer, she eventually gave up and left for Happy Lutho too.[5] The eyes of the citizens who forsook their bodies were placed on the trees of the Eyeball Forest, giving it its characteristic look.[6]
Points of Interest
[
]
Buildings
[
]
Monolith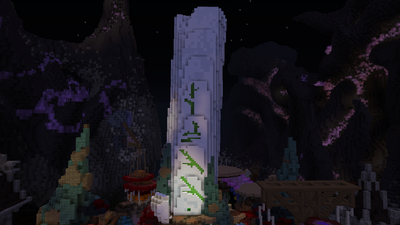 Crafting Stations
[
]
Merchants
[
]
NPCs
[
]
Trivia
[
]
The name "Lutho" translates to "Nothing" from Zulu.
The monolith in the center of the town reads "free" in Wynnic.
The buildings in Lutho appear to have construction equipment built into them.
References
[
]