Lutho
Lutho is a town located in the Silent Expanse. It is the final destination in the quest A Journey Beyond. It is currently the highest level city in the game.
Lutho was originally a town founded by the human miners that made it to the Silent Expanse.[1] The Light erected a monolith in the middle of the town to protect the physical bodies of the miners, and to fight the darkness of Dern.[2] Not wanting to live in this depressing darkness, slowly, the miners of Lutho chose to lose their souls and transport into an imaginary world. Their bodies were left behind, with only the monolith keeping them moving.[3]
Two quests, A Journey Further and Point of No Return start from Lutho.
Monolith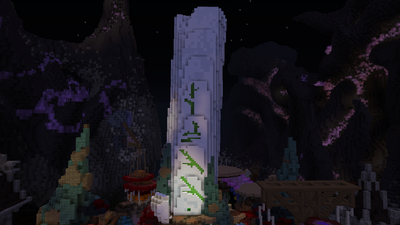 The name "Lutho" translates to "Nothing" from Zulu.
The monolith in the center of the town reads "free" in Wynnic.