Nemract is a port city, built as a replacement for the destroyed Ancient Nemract. The port serves the same function Ancient Nemract did; shipping emeralds and goods to every corner of the Wynn Province. The town has a bank, Weapon and Armour merchants, a Seaskipper boat and multiple Blacksmiths. The presence of the Seaskipper makes Nemract an ideal place to start exploring the Ocean. Skeletons, level 19, 21, 23, and 25, spawn near Nemract. As a result, the southern end of Nemract is considered a good grinding spot for low level players.
History
[
]
Before the Nether Portal opened, Nemract was a great stone city located south of where the modern coastal city now stands. However, when the Portal opened, Ancient Nemract was the first city to be destroyed by the Corruption,[1] and many of its inhabitants were turned into undead by Charon for his Forsaken Legion.[2] The giant skull that serves as the entrance to Charon's hiding place at the center of Ancient Nemract's Colosseum is where all of the Undead roaming around the ruins come from.[1][2]
After Ancient Nemract's destruction, its surviving inhabitants moved closer to the coast and created a small port city, which is the Nemract we know today. However, the town was, and still is, very poor due to the constant threat of the Corruption and the Undead.[3][4] Due to being Wynn's only port city, Nemract is a hotspot for sailors and pirates from all over the Ocean, and the town is famous for its Nemract Whiskey, shipped all across the world.[5]
Map
[
]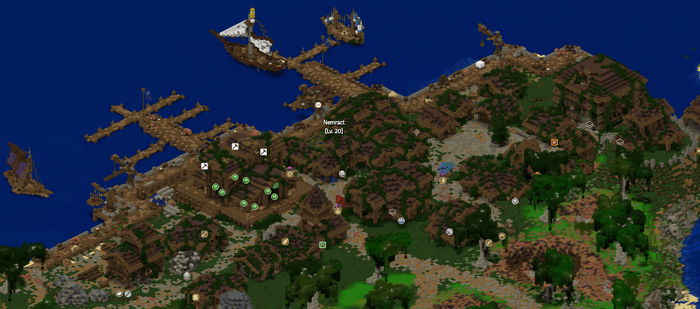 Points of interest
[
]
Buildings
[
]
A Locked Up Mansion is located on the city's edge. It is the main setting for the Dwelling Walls quest, where players must solve a puzzle in order to find a journal required to complete the quest.
The Nemract Bank is located in the middle of the town.
Areas
[
]
The Main Road runs east-west through out the span of the entire city.
The Docks are located in between the water front and the city over the entire span of the town.
An Ancient Bovine Church can be found out the Eastern Gate of the city.
Gates
[
]
The Eastern Gate is located on the eastern boarder of the city and leads of to a Bovine Church, Ancient Nemract and Saints Row
The Western Entrance links the Coastal Trail to the Nemract Docks.
The Southern Entrance leads down a trail to Nivla Woods
Merchants
[
]
NPCs
[
]

Drucksh

Leucsaa

Laen

Barman

Mylo
Trivia
[
]
The name Nemract is taken from Cartmenezzzzzzzzzzz, a former Wynncraft builder.
Nemract is one of the few cities to have no specialized merchants.
Gallery
[
]
References
[
]