Pirate Cove (also named Pirate Town) is a medium-sized island in the Western Ocean. The island is shaped like a horseshoe, with a small port located in the center of the island, and the main town inside a ravine on the south side of the island. The Pirate town in the center is unnamed, and includes an emerald and potion merchant as well as an identifier. On the north side of the mountains is the entrance to the Skull Cave. Despite being a pirate island, it remains devoid of any ships.
Map
[
]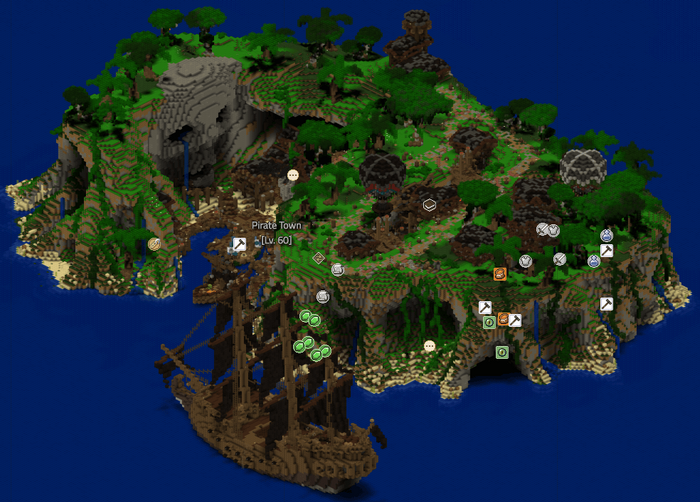 Points of interest
[
]
Buildings
[
]
The middle and lower floor is about the same. All of the buildings with merchants on the lower floor have stairs to the one on the middle floor.
There is an elevator near the Item Identifier which takes you from the middle floor to the lower floor and vice versa.
The top floor is an unusable airbase. It contains some sheds, ships and balloons.
The entrance houses the V.S.S. Seaskipper, the Hook Merchant, Blacksmiths and the Giant Skull. The giant skull is a quest location for Beneath the Depths, where you get the Faded Map and take to Dalben. It can be accessed by stairs near the Seasail Shop.
Merchants
[
]

Emerald Merchant

Potion Merchant

Item Identifier

Scroll Merchant

Armour Merchant

Weapons Merchant

Seasail Merchant

Powder Master

Blacksmith

Bar Merchant

Golden Fish Merchant

Hook Merchant
NPCs
[
]
Gallery
[
]
Trivia
[
]
To the north of Pirate Cove is the entrance to Galleon's Graveyard.
The island was loosely based off of Pepe the frog's image. This is easily seen from above.
The Bar Merchant sells a Potion of Drunkness / Nemract Whiskey for 2 emeralds.