m

Line 10:
Line 10:
 

| othermerchants = [[Emerald Merchant]]<br>[[Scroll Merchant]]<br>[[Seasail Merchant]]<br>[[Potion Merchant]]<br>[[Treasure Merchant]]<br>[[Weapon Merchant]]

 

| othermerchants = [[Emerald Merchant]]<br>[[Scroll Merchant]]<br>[[Seasail Merchant]]<br>[[Potion Merchant]]<br>[[Treasure Merchant]]<br>[[Weapon Merchant]]

 

| otherutilities = [[Bank]]<br>[[Item Buyer]]<br>[[Identifier|Item Identifier]]<br>[[Powder Master]]

 

| otherutilities = [[Bank]]<br>[[Item Buyer]]<br>[[Identifier|Item Identifier]]<br>[[Powder Master]]

−

| involvedquestnames = [[Sister City]], [[Craftmas Chaos]]

+

| involvedquestnames = [[Sister City]], [[Craftmas Chaos]]

 

| biome = Ocean Island

 

| biome = Ocean Island

 

| islandsize = Medium

 

| islandsize = Medium

Line 28:
Line 28:
 

*'''Bovine Church'''

 

*'''Bovine Church'''

 

*'''Bank'''

 

*'''Bank'''

 
+

*'''The [[C.S.S. Wavebreaker]]''' provides quick travel to [[Corkus]].

 
 
 

====NPCs====

 

====NPCs====
---
Revision as of 01:52, 15 May 2017
Template:Infobox/Town2 Selchar is a town located on an island off the shore of Nemract and was added as a part of the "Ocean" update. The city has one bank with many merchants. A Weapon Merchant, an Item Identifier, Item Buyers, a Treasure Merchant which buys treasures, and a Scroll Merchant can be found. Unfortunately, it doesn't have a Liquid Emerald Merchant, a Powder Master, or any Armour Merchants.
The town features three islands connected by two bridges, and speckled with caves on the sides with few chests. It is a great city to use the V.S.S. Seaskipper for quests, and dive in the reef to get some blocks of emeralds.
Map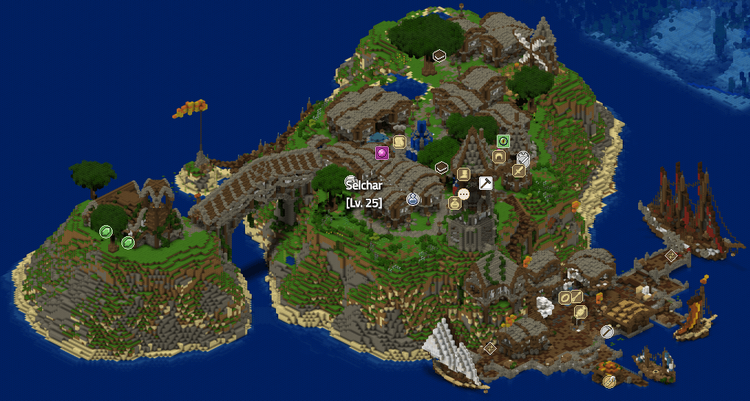 Points of interest
Buildings
Hourglass Tower is very similar to the one in Detlas, and is constantly spawning hourglass sand, which is needed for the Sister City quest.
Bovine Church
Bank
The C.S.S. Wavebreaker provides quick travel to Corkus.
NPCs
Merchants

Seasail Shop

Emerald Merchant

Item Buyer

Potion Merchant

Scroll Merchant

Weapon Merchant

Treasure Merchant

Item Identifier

Trivia
The name "Selchar" is derived from Grian's real name, Charles.
This town was made by pinkvest123 and blueshirt123, without the use of any external building plugins, for a contest hosted by Grian during the summer of 2012.