This page contains spoilers. Readers are discouraged from continuing if they want to discover features by themselves.
Shadowy Dealings



The mayor of Olux and an unknown figure.

Discovery Lore

The highly valued guard golems are quite effective in repelling danger, but they are not enough to help the citizens of Olux. Desperation is the only choice for many.
Access
Coordinates
X: -1580, Z: -5575
Suggested Level
45
Usage
Uses
Discovery
Requirements
Golem Command Chip
Shadowy Dealings is a Secret Discovery located in the Olux Lumberyard, east to Olux.
Access
[
]
There's a Golem Command Chip on the table inside the Golem Maintenance house in Olux.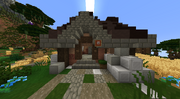 Head to the Olux Lumberyard and right-click on the Olux Guard Golem with the Golem Command Chip in your hand
Olux Guard Golem: COMMAND RECEIVED - REMOVE OBJECT.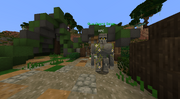 Lead the golem to the saw.
Olux Guard Golem: OBJECTIVE FOUND. REMOVING BOULDER.
Olux Guard Golem: OBJECTIVE COMPLETED. RETURNING TO POST.
The saw will reveal a cave that you can access.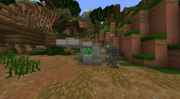 Cutscene
[
]
If you have already done the discovery before, the following dialogue will play before the cutscene.
You recall what happened when you last came here...
Mayor: A-are you here?
Mysterious Figure: Good to see you again, Mayor. Glad you found the place.
Mayor: I've lived here my whole life, this used to be a nice building.
Mysterious Figure: Mmm. I assume the golems are working, as I said they would?
Mayor: Yes... They are. But-
Mysterious Figure: Excellent, then we can move onto why we're here.
Mayor: W-what's that?
Mysterious Figure: My fee.
Mayor: Right, of course. I can take some emeralds from the city vault, just give me a week.
Mysterious Figure: We both know Olux has not a single emerald to its name.
Mysterious Figure: Besides, you very well know that we agreed on another form of payment.
Mayor: I was hoping that you might reconsider in favour of emeralds?
Mysterious Figure: Are you trying to go back on our deal?
Mayor: No, I just-
Mysterious Figure: Hit him.
Mayor: Stop! STOP! OK, I'll get you what you need.
Mysterious Figure: Good. I need four brought to me by midnight. Alive.
Trivia
[
]
Originally, the discovery was not redo-able, but this was changed in a later patch.