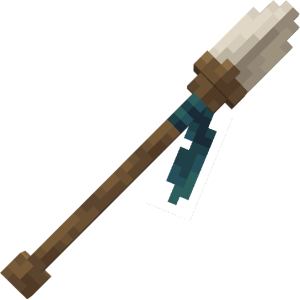 Spears are weapons used by the Warrior and the Knight class. Like other weapons, there are different rarities of spears, and they range in damage and level.
Obtaining
[
]
Spears can be obtained in the following ways:
Usage
[
]
Unidentified spears have to be identified with emeralds using the Item Identifier before being used.
A spear can only be used by warriors and knights who meet all the minimum level requirements of it.
Melee attack
[
]
Pressing left click while holding a spear can deal melee damage to nearby mobs.
Spells
[
]
Bash (Level 1) [Right-Left-Right] - Violent attack in front of the player, hitting lots of enemies and knocking them back.
Charge (Level 11) [Right-Right-Right] - Make the player charge quickly in one direction.
Uppercut (Level 21) [Right-Left-Left] - Uppercut an enemy, causing them to rocket in the sky.
War Scream (Level 31) [Right-Right-Left] - Make the player scream, which boosts everyone around him and scares the enemy.
Identifications
[
]
Players can receive identification bonuses from the spear that they are holding.
List of Spears
[
]
Depressing
[
]
| Weapon Name | Attack Speed | Damage | Min. Level |
| --- | --- | --- | --- |
| Oak Wood Spear | Slow | 3-6 | 1 |
| Stone-hewn Spear | Very Slow | 8-11 | 2 |
| Light Oak Wood Spear | Normal | 4-8 | 4 |
| Birch Wood Spear | Slow | 7-13 | 6 |
| Andesite-hewn Spear | Very Slow | 19-25 | 8 |
| Light Birch Wood Spear | Normal | 9-13 | 11 |
| Spruce Wood Spear | Slow | 13-19 | 13 |
| Light Spruce Wood Spear | Normal | 13-17 | 17 |
| Diorite-hewn Spear | Very Slow | 26-37 | 15 |
| Jungle Wood Spear | Slow | 20-25 | 19 |
| Granite-hewn Spear | Very Slow | 42-59 | 22 |
| Light Jungle Wood Spear | Normal | 18-24 | 25 |
| Flawless Oak Spear | Slow | 27-39 | 28 |
| Flawless Stone Spear | Very Slow | 54-76 | 30 |
| Flawless Light Oak Spear | Normal | 27-33 | 33 |
| Flawless Birch Spear | Slow | 36-60 | 36 |
| Flawless Andesite Spear | Very Slow | 81-109 | 39 |
| Flawless Light Birch Spear | Normal | 47-59 | 42 |
| Flawless Spruce Spear | Slow | 63-71 | 45 |
| Flawless Diorite Spear | Very Slow | 112-144 | 47 |
| Flawless Light Spruce Spear | Normal | 51-63 | 50 |
| Flawless Jungle Spear | Slow | 77-99 | 53 |
| Flawless Granite Spear | Very Slow | 160-199 | 54 |
| Flawless Light Jungle Spear | Normal | 60-75 | 55 |
| Pure Oak Wood Spear | Slow | 91-105 | 56 |
| Pure Stone Spear | Very Slow | 172-215 | 57 |
| Pure Light Oak Spear | Normal | 70-86 | 59 |
| Pure Birch Spear | Slow | 102-130 | 61 |
| Pure Andesite Spear | Very Slow | 197-245 | 63 |
| Pure Light Birch Spear | Normal | 86-102 | 65 |
| Pure Spruce Spear | Slow | 129-147 | 67 |
| Pure Diorite Spear | Very Slow | 243-277 | 69 |
| Pure Light Spruce Spear | Normal | 99-115 | 70 |
| Pure Jungle Spear | Slow | 138-176 | 72 |
| Pure Granite Spear | Very Slow | 271-316 | 74 |
| Impeccable Oak Spear | Slow | 168-192 | 78 |
| Impeccable Stone Spear | Very Slow | 311-368 | 80 |
| Impeccable Light Oak Spear | Normal | 145-167 | 82 |
| Impeccable Birch Spear | Slow | 184-226 | 84 |
| Impeccable Andesite Spear | Very Slow | 355-413 | 86 |
| Impeccable Light Birch Spear | Normal | 152-176 | 89 |
| Impeccable Spruce Spear | Slow | 209-269 | 91 |
| Impeccable Diorite Spear | Very Slow | 414-476 | 93 |
| Impeccable Light Spruce Spear | Normal | 182-198 | 95 |
| Impeccable Jungle Spear | Slow | 235-300 | 97 |
| Impeccable Granite Spear | Very Slow | 455-525 | 98 |
| Impeccable Light Jungle Spear | Normal | 180-210 | 98 |
Unique
[
]
| Name | Lv. Min | Quest Req | Neutal Dam. | Earth Dam. | Thunder Dam. | Water Dam. | Fire Dam. | Air Dam. | Str. Min | Dex. Min | Int. Min | Def. Min | Agi. Min | Attack Speed | Slots |
| --- | --- | --- | --- | --- | --- | --- | --- | --- | --- | --- | --- | --- | --- | --- | --- |
| Aloof | 2 | - | 2-8 | - | - | - | - | - | - | - | - | - | - | Fast | 1 |
| The Leech Spear | 4 | - | 7-14 | - | - | - | - | - | - | - | - | - | - | Slow | 1 |
| Hostage | 5 | - | 7-11 | - | - | - | - | - | - | - | - | - | - | Normal | 0 |
| Fourchette | 5 | - | 10-17 | - | - | - | - | - | - | - | - | - | - | Slow | 1 |
| Chandelle | 6 | - | 5-8 | - | - | - | 5-8 | - | - | - | - | - | - | Slow | 0 |
| War Spear | 8 | - | 16-20 | - | - | - | - | - | - | - | - | - | - | Slow | 1 |
| Ragni's Spear | 8 | - | 10-22 | - | - | - | - | - | - | - | - | - | - | Slow | 1 |
| Corpse | 8 | - | 8-10 | 4-9 | - | - | - | - | - | - | - | - | - | Slow | 1 |
| Sledge | 9 | - | 25-37 | - | - | - | - | - | - | - | - | - | - | Very Slow | 0 |
| Isaz | 10 | - | 1-3 | - | - | 6-9 | - | - | - | - | - | - | - | Fast | 1 |
| Stone Cutter | 11 | - | 7-13 | - | - | - | - | - | - | - | - | - | - | Fast | 0 |
| Guard Spear | 11 | - | 12-16 | - | - | - | 2-6 | - | - | - | - | - | - | Slow | 1 |
| Bedrock Eater | 12 | - | 27-39 | - | - | - | - | - | - | - | - | - | - | Very Slow | 1 |
| The Skin Tearer | 13 | - | 10-14 | - | - | - | - | - | - | - | - | - | - | Normal | 1 |
| Chief | 14 | - | 7-10 | - | - | - | 4-6 | - | - | - | - | - | - | Normal | 1 |
| Hilt | 16 | - | 8-16 | - | - | - | - | - | - | - | - | - | - | Normal | 3 |
| Pusuit | 18 | - | 11-16 | - | 5-7 | - | - | - | - | - | - | - | 5 | Fast | 1 |
| Sting | 18 | - | 10-18 | - | - | - | 14-22 | - | - | - | - | 5 | - | Slow | 1 |
| Spear of Prosperity | 18 | - | 24-33 | - | - | - | - | - | - | - | - | - | - | Slow | 1 |
| Grandfather | 20 | - | 54-61 | - | - | - | - | - | - | - | - | - | - | Very Slow | 1 |
| Broken Trident | 22 | - | 28-44 | - | - | - | - | - | - | - | 10 | - | - | Slow | 1 |
| The Fallen | 23 | - | 4-10 | - | - | - | 12-16 | - | - | - | - | - | - | Slow | 1 |
| Big Ol' Hammer | 23 | - | 10-15 | 18-25 | - | - | - | 20 | - | - | - | - | - | Slow | 1 |
| Hunter | 23 | - | 5-8 | - | 2-14 | - | - | - | - | 12 | - | - | - | Very Fast | 1 |
| Kuiper | 25 | - | 5-5 | 9-17 | 9-17 | 9-17 | 9-17 | 9-17 | 6 | 6 | 6 | 6 | 6 | Very Slow | 1 |
| Blade of Wisdom | 24 | - | 12-16 | - | - | 12-20 | - | - | - | - | 8 | - | - | Slow | 1 |
| Barbed Spear | 26 | - | 65-75 | - | - | - | - | - | 10 | - | - | - | - | Very Slow | 1 |
| Hook | 29 | - | 13-18 | - | - | - | - | 13-20 | - | - | - | - | 10 | Fast | 1 |
| Cross | 28 | - | 41-53 | - | - | - | - | - | - | - | - | - | - | Slow | 0 |
| The Head Ripper | 30 | - | 10-15 | 10-15 | - | - | - | 15-25 | - | - | - | - | - | Slow | 1 |
| Ocean Blade | 32 | - | 1-20 | - | - | 15-20 | - | - | - | - | 25 | - | - | Normal | 1 |
| Vartija | 33 | - | 8-12 | - | - | - | 2-6 | 2-6 | - | - | - | 10 | 10 | Super Fast | 0 |
| Fluffy Spear | 33 | - | 43-66 | - | - | - | - | - | - | - | - | 10 | - | Slow | 1 |
| Upgraded Steel Buster | 34 | - | 39-52 | 18-22 | - | - | - | - | 15 | - | - | 5 | - | Slow | 1 |
| Steel Buster | 34 | - | 36-45 | 15-19 | - | - | - | - | 15 | - | - | 5 | - | Slow | 1 |
| Mixolydian | 36 | - | 14-19 | - | - | - | - | 11-15 | - | - | - | - | 25 | Very Fast | 1 |
| Dragon Fang | 38 | - | 4-18 | - | - | - | 22-36 | - | - | - | - | 15 | - | Fast | 2 |
| Nerium Old Spear | 39 | - | 60-80 | 24-30 | - | - | - | 24-30 | 15 | - | - | - | 15 | Very Slow | 1 |
| Meteorite | 40 | - | - | 15-25 | - | - | 10-30 | - | 10 | - | - | 10 | - | Fast | 2 |
| Affrettando | 42 | - | 3-14 | - | - | - | - | 13-28 | - | 30 | - | - | 20 | Very Fast | 2 |
| Copper-Alloy Pike | 42 | - | 26-38 | - | 8-14 | - | 8-14 | - | - | 10 | - | 10 | - | Normal | 2 |
| Sharp Terror | 42 | - | 25-31 | - | - | 31-39 | - | - | - | - | 20 | - | - | Slow | 2 |
| Current | 43 | - | 20-27 | - | 10-30 | - | - | - | - | - | - | - | - | Fast | 2 |
| Kolkhaar | 43 | - | 21-25 | 17-29 | 13-33 | - | - | - | 25 | 25 | - | - | - | Normal-Very Fast | 0 |
| Traitor | 44 | - | 35-55 | - | - | - | 20-40 | - | - | - | - | 10 | - | Slow | 2 |
| Silver Short Spear | 44 | - | 45-70 | - | - | - | - | - | - | - | - | - | - | Normal | 2 |
| Oxalate | 45 | - | 0-40 | 20-44 | - | 20-44 | - | - | 20 | - | 20 | - | - | Slow | 2 |
| Syringe | 44 | - | 25-40 | - | - | 20-30 | - | - | - | - | 15 | 15 | - | Normal | 2 |
| The Vampire Blade | 44 | - | 18-28 | - | 10-40 | - | - | - | - | - | - | - | - | Normal | 1 |
| Nesaak's Will | 46 | - | 46-68 | - | - | 21-29 | - | - | 10 | - | 10 | - | - | Slow | 1 |
| Malfunction | 48 | - | - | - | 0-45 | 0-45 | - | - | - | 20 | 20 | - | - | Very Fast | 1 |
| Gale Rider | 47 | - | 11-18 | - | - | - | - | 13-18 | - | - | - | - | 15 | Very Fast | 2 |
| Chest Breaker | 48 | - | 40-92 | - | - | - | - | - | 30 | - | - | - | - | Normal | 2 |
| Razor | 49 | - | - | - | 30-70 | - | - | - | - | - | - | - | - | Fast | 4 |
| Name | Lv. Min | Quest Req | Neutral Dam. | Earth Dam. | Thunder Dam. | Water Dam. | Fire Dam. | Air Dam. | Str. Min | Dex. Min | Int. Min | Def. Min | Agi. Min | Attack Speed | Slots |
| --- | --- | --- | --- | --- | --- | --- | --- | --- | --- | --- | --- | --- | --- | --- | --- |
| Bullseye | 1 | - | 0-30 | - | - | - | - | - | - | - | - | - | - | Very Slow | ? |
| Javelin | 5 | - | 8-14 | - | - | - | - | - | - | - | - | - | - | Normal | ? |
| Dern's Shadow | 10 | - | 10-15 | - | - | - | - | - | - | - | - | - | - | Fast | ? |
| Vellalar | 13 | - | 13-18 | - | - | 5-9 | - | - | - | - | 10 | - | - | Slow | ? |
| Fern | 16 | - | 2-13 | 2-5 | - | - | - | - | - | - | - | - | - | Very Fast | ? |
| Halbert | 22 | - | 36-58 | - | - | - | - | - | - | - | - | - | - | Slow | ? |
| Cyclops' Spear | 24 | - | 16-18 | - | - | 12-16 | - | - | - | - | 10 | - | - | Normal | ? |
| Mist Blade | 25 | - | 13-24 | - | - | - | - | 7-14 | - | - | - | - | 10 | Fast | ? |
| Drywind | 27 | - | 6-14 | - | - | - | - | 16-26 | - | - | - | - | 15 | Fast | ? |
| The Banhammer | 28 | - | 28-38 | 14-20 | - | - | - | - | - | - | - | - | - | Slow | ? |
| Dern's Desolation | 29 | - | 24-38 | - | 4-24 | - | - | - | - | 15 | - | - | - | Normal | ? |
| Hammer of the Blacksmith | 30 | - | 50-80 | 40-75 | - | - | - | - | 25 | - | - | - | - | Super Slow | ? |
| Sandstorm | 34 | - | 14-29 | - | - | - | - | 20-39 | - | - | - | - | 20 | Fast | ? |
| Archpriest | 37 | - | 10-16 | - | - | 10-12 | - | 10-12 | - | - | 18 | - | 18 | Very Fast | ? |
| Fighting Spirit | 41 | - | 52-80 | - | - | - | - | - | - | - | - | - | - | Normal | ? |
| Joker | 45 | - | 0-35 | 0-30 | - | - | 0-40 | 0-40 | 5 | - | - | 10 | 10 | Normal | 2 |
| The Nautilus | 48 | - | 52-70 | - | - | 28-36 | - | - | - | - | 25 | - | - | Slow | ? |
| Coeur de Lion | 52 | - | 50-75 | - | - | - | 30-55 | - | - | - | - | 30 | - | Slow | ? |
| Skien's Madness | 56 | - | 20-60 | - | - | - | - | - | - | 30 | - | - | - | Super Fast | ? |
| Demon Seeker | 59 | - | 80-120 | - | - | - | - | - | - | - | - | - | - | Normal | ? |
| Ik-El-Ván | 66 | - | 48-75 | - | - | 60-75 | - | - | 10 | - | 35 | - | - | Fast | ? |
| Toaster | 70 | - | 78-96 | - | - | - | 66-72 | - | - | - | - | 38 | - | Slow | ? |
| Morning Star | 72 | - | 100-140 | - | - | - | 80-140 | - | - | - | - | - | - | Slow | ? |
| Gungnir | 76 | - | 170-190 | - | - | - | - | - | - | - | - | - | - | Normal | ? |
| Tower | 80 | - | 152-170 | - | - | - | - | - | - | - | - | 30 | - | Normal | ? |
| Brimstone | 85 | - | 80-100 | - | - | - | 100-140 | - | - | - | - | 100 | - | Normal | ? |
| Lost Soul | 87 | The Lost | 50-110 | - | - | - | - | 80-120 | - | - | - | - | 65 | Fast | ? |
| Infilak | 89 | - | 60-90 | - | - | - | 55-70 | - | - | - | - | 40 | - | Very Fast | ? |
| Cue Stick | 92 | - | 300-350 | - | 150-300 | - | - | - | - | 55 | - | - | - | Very Slow | ? |
| Undying | 95 | - | 360-400 | - | - | - | 100-120 | - | - | - | - | 65 | - | Very Slow | ? |
| Crack the Skies | 100 | - | - | - | 90-120 | - | - | 110-160 | - | 40 | - | - | 60 | Normal | ? |
| Name | Lv. Min | Quest Req | Neutral Dam. | Earth Dam. | Thunder Dam. | Water Dam. | Fire Dam. | Air Dam. | Str. Min | Dex. Min | Int. Min | Def. Min | Agi. Min | Attack Speed | Slots |
| --- | --- | --- | --- | --- | --- | --- | --- | --- | --- | --- | --- | --- | --- | --- | --- |
| Maltic's Old Spear | 7 | - | 15-20 | - | - | - | - | - | - | - | - | - | - | Normal | 1 |
| Clash Hook | 13 | - | 10-15 | - | - | - | - | 5-10 | - | - | - | - | - | Fast | 1 |
| The Berserk | 19 | - | 38-48 | 8-22 | - | - | - | - | 10 | - | - | - | - | Slow | 1 |
| Legendary Smasher | 26 | - | 50-110 | - | - | - | 25-35 | - | - | - | - | - | - | Very Slow | 1 |
| Chaleur | 33 | - | 25-35 | - | - | - | 50-65 | - | - | - | - | 25 | - | Slow | 0 |
| Fierce Thunder | 39 | - | 30-46 | - | 22-54 | - | - | 6 | - | 20 | - | - | - | Fast | 2 |
| Fissure | 48 | - | 80-130 | 70-140 | - | - | - | - | 40 | - | - | - | - | Very Slow | 2 |
| Olux's Prized Spear | 55 | The Shadow of the Beast | 40-70 | 65-90 | - | 25-40 | - | - | - | - | - | - | - | Slow | 2 |
| Fiertè | 56 | - | 40-65 | - | - | - | 50-100 | - | - | - | - | 20 | - | Normal | 2 |
| Skyfall | 59 | - | 25-55 | - | - | - | - | 55-95 | - | - | - | - | - | Fast | 3 |
| Remikas' Righteousness | 63 | - | 110-130 | - | - | - | - | - | - | - | - | - | - | Normal | 3 |
| Scythe | 70 | - | 80-115 | - | 40-140 | - | - | - | 20 | 25 | - | - | - | Normal | 3 |
| Bob's Mythic Spear | 75 | Reincarnation | 340-420 | - | - | - | - | - | - | - | - | - | - | Slow | 3 |
| Blade of Purity | 78 | - | 175-225 | - | - | - | - | - | - | - | - | - | - | Fast | 0 |
| Tisuan's Proof | 88 | - | 130-165 | - | - | - | - | - | - | - | - | - | - | Fast | 2 |
| Harwrol | 97 | - | 130-180 | 120-150 | - | - | - | 80-110 | 40 | - | - | - | 40 | Normal | 0 |
| Tidebinder | 99 | - | - | - | - | 285-425 | - | - | - | - | 80 | - | - | Slow | 3 |
| Infused Hive Spear | 100 | The Qira Hive | 250-400 | - | - | - | - | - | - | - | - | - | - | Normal | 0 |