This page contains spoilers. Readers are discouraged from continuing if they want to discover features by themselves.
The Fallen Protector

Discovery Lore

Long ago, a Colossus once inhabited the Ahms Region before its fracturing. With nobody to keep the being's mechanisms in check, it eventually went haywire and shattered the entire region.
Access
Coordinates
X: 1230, Z: -4689
Suggested Level
Combat Lv. 95+
Usage
Uses
Discovery
Requirements
All other Sky Islands Secret Discoveries found
The Fallen Protector is a Secret Discovery located in the Sky Islands. It is an Ultimate Discovery, requiring all Sky Islands Secret Discoveries to be found.
The cutscene shows the Ahms Colossus fracturing the Ahms region, causing it to split into the Sky Islands and The Void.
Access
[
]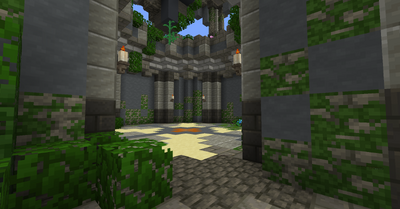 Head to the temple in the Sky Islands at 1230, -4689. Wait for the orb to spin and then the Cutscene will start.
Cutscene
[
]
Villager: Oi! Clomi! Get the cotton out of your ears!
Priest: Ah... Good evening... What brings you here today, brother?
Villager: It's our Colossus, it's gone insane! It's destroying everything surrounding it for miles!
Priest: Now, now. Don't speak of our Grand Colossus like that! I'm sure there's some sort of explanation for this...
Villager: What? Do you not believe me? Fine! Come with me, and see for yourself!
Priest: Very well then...
...
Sometime after, the fracturing ceased. The Ahms Region was left shattered. Hundreds of lives were lost, and claimed by the void.
And with those lives, the Colossus that presided in the Ahms Region destroyed itself, unable to separate its own body from the land surrounding it.
And so, it too fell into the void. Becoming a memory that was lost to time, the civilization that worshipped it soon collapsed as well.
It is only a matter of time before the Canyon of the Lost meets the same fate as the Sky Islands, as a land that was ripped apart by an unknown, colossal entity...