This page contains spoilers. Readers are discouraged from continuing if they want to discover features by themselves.
The Heart of the Decay

Discovery Lore

For two hundred years the nest of the parasitic creatures remained hidden. It released countless Dark leeches into the undergrowth of the province. By the time it was found, it was already too late.
Access
Coordinates
X: -575, Z: -5552
Suggested Level
70
Usage
Uses
Discovery
Requirements
All other Dark Forest Discoveries found.
The Heart of the Decay is a Secret Discovery north of Lexdale. It is the Ultimate Discovery of the Dark Forest region and requires all other six discoveries to have been found by the player. The discovery shows what happened to the land after the parasite burrowed into ground.
Access
[
]
Approaching the root of the tree stump will prompt the hidden entrance to open.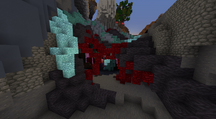 And so, the parasite burrowed deep into the ground, planting the seed that would soon grow into the Decay.
And though the parasite has long since left this place...
Its spawn still remain, hatching deep inside the Heart of the Decay.
Tips
[
]
Interacting with the egg nest after entering the underground will give the player a Mysterious Egg. This egg currently has no use.
Gallery
[
]