| | |
| --- | --- |
| | Attention: This page is still under construction and is incomplete. |
Attention: This page is still under construction and is incomplete.

A Víz Alatt egy közepes, 8-as szintű küldetés a Tengerparti Ösvényen, közel Maltic-hoz.
Előzmény
[
]
Omango megkéri a játékost hogy fedezze fel a régi, Gavelből érkezett rakományszállító-hajó roncsát. Azonban, egy Lélegzősisakra van szüksége a játékosnak, hogy meg ne fulladjon felfedezése közben. A part mentén haladva a játékos egy hajón belebotlik Sayrrba, aki felajánlja, hogy odaadja a lélegzősisakját 10 fenékjáró küllő húsért cserébe.
1. Szakasz
[
]
» Beszélj Omango-val a Tengerparti Ösvényen, északra Maltic-tól, [-540, 34, -2020]-nál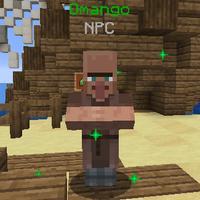 Párbeszéd:
Omango: Üdv, a nevem Omango. A domb tetején lévő Maltic falu egy lakosa vagyok.
Omango: Ahogy tudhatod az embereim évekkel ezelőtt érkeztek ide ezzel a hajóval.
Omango: Mindenféle dolgot hoztak magukkal. A legtöbb ezekből a hajóroncsban van, még most is.
Omango: De nemrég, ahogy láthatod, ez a rés fel lett tárva. Úgy tartották, hogy a valódi kincs a hullámok alatt rejtőzik.
Omango: Sajnos senki se tudja felderíteni ezt rést. Túl mély, és nincs olyan élőlény, amely ilyen sokáig túlélné levegő nélkül!
Omango: Az én régi barátom Sayrr egy halász, akinek van egy nagyon különleges sisakja...
Omango: Hogyha megtudod szerezni azt a sisakot, és, ha megtudod találni a kincset, odaadom egy részét!
Omango: Sayrr biztosan a közelben horgászik a hajójával. Beszélj vele, csakis ő tud nekünk segíteni. De nem is egy jó szívű lélek!
Omango: Mikor megvan a sisak, fedezd fel a roncsot és hozz fel nekem [4 ősi kincs]-et. Sok sikert!
2. Szakasz
[
]
» Beszélj Sayrr-ral a Lélegzősisakról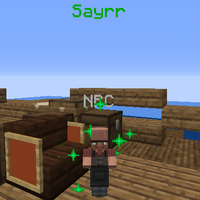 Párbeszéd:
Sayrr: Miért nézel így rám? Talán azért mert kicsi vagyok?! Csak úgy mondom, egyszer fogtam egy olyan nagy halat, ami kétszer akkora volt mint te!
Sayrr: De... miért is jöttél fel a hajómra, idegen?
Sayrr: Aha! Igen, nálam van az a haszontalan lélegző sisak. Akarod? Ahhoz először tegyél meg nekem egy szívességet!
Sayrr: Ahogy látod, az elmúlt 3 napban csak horgásztam, és nagyon jól megy, nem szeretném ezt megszakítani azzal, hogy visszamegyek Nemractba ételt venni.
Sayrr: Szerezz enni, és inni is valamit, [3 malacember hús] és [1 vödör tej] megteszi. Egy növésben lévő ember vagyok! Kell az ellátás!
Sayrr: Ezek után, ha minden megvan, a sisak a tiéd lehet.
3. Szakasz
[
]
» Hozz (ugyanolyan minőségű) [10 Fenékjáró Küllő Hús]-t Sayrr-nak
Sayrr: Áh! Üdv újra! Jó volt a kapás?
Sayrr: Nagyszerű. Itt a sisakod, légyen egészségedre.
4. Szakasz
[
]
» Fedezd fel a hajóroncsot az elveszett kincsért (viselned kell a lélegző sisakot, hogy lemerülhess)
5. Szakasz
[
]
» Szedd darabokra a ládát és vigyél 4 [ősi kincset] Omango-nak
Image
Name
Level
Health
AI Type
Abilities
Elemental Stats
Drops
Location
Damaged Crate
10
80
-
-
-

8 Old Treasure
Crashed Ship
Room at (-565, 19, -2047)
Omango: Megszerezted! Megtaláltad a kincset!
Omango: Ahogy ígértem, itt a része a zsákmánynak.
Tippek
[
]
Ha hamarabb összegyűjtöd 3 malacember húst és az 1 vödör tejet, mint, hogy Sayrr-ral találkoznál, meg tudsz spórolni magadnak egy csomó időt és gyalogutat.
Amelyst elmerülsz a résen keresztül, nehéz lehet bármit is látni a sötétség miatt. Vigyázz, mert még a lélegző sisakkal is meg lehet fulladni, ha nem vagy elég gyors.
Kövesd a tengerpartot Ragnitól, hogy könnyedén megtaláld Sayrrt.
Apróságok
[
]