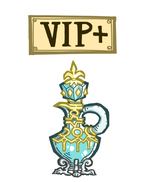 V.I.P.+ is a donator rank in Wynncraft that costs $39.99 when not on sale. You can purchase ranks at the Wynncraft Store.
Features
[
]
All the V.I.P. features
Aqua name
One daily T1 Loot Crate
Mob Totems - VIP+s get four a day, all lasting 20 minutes total (5 minutes each)
2 more reskinned classes - In addition to the Knight and Hunter class, VIP+s also have access to the Dark Wizard and Ninja classes, which are visual alterations of the Mage and Assassin
An additional 3 class slots for a total of 10 class slots
Tier 2 weapon class icons
OST Jukebox - VIP+s can open a GUI and have the ability to play any Wynncraft song anywhere in the world
Trivia
[
]
This rank is considered by many to be the best "bang for your buck" rank, as it has many additional upgrades from V.I.P.
Players who donated before the EULA (before 1.12) can choose to have the "[Vet]" tag in game using "/toggle vet".