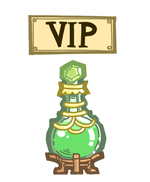 V.I.P. is the cheapest rank available for purchase that costs $6.99 when not on sale. You can purchase ranks in the Wynncraft Store.
Features
[
]
Green name
Mob Totems - VIPs get two a day, both lasting 10 minutes total (5 minutes each)
Rename Pets/Horses - VIPs can rename their Pets and Horses
Reskinned Classes - VIPs have access to the Knight and Hunter class reskins
Additional Class Slots - VIPs get 2 more class slots for a total of 7 class slots
VIP Forum - Type /forum in game to unlock a secret section just for donators on the forums
Lobby Flight
No lobby translucency - VIPs are not invisible, unlike those who have not purchased a rank.
Join Notification - As a VIP, those within a certain area of you will get a message when you join.
Access to tier 1 weapon class icons
VIP Before
[
]
Before the 1.05 Update (29 June 2013), VIP had slightly different features. Ragni, Detlas and Nemract were the only non-VIP cities; Nesaak and Almuj were both donor only areas. Lifetime VIP cost $50.00 USD, three months of VIP cost $25.00, and one month of VIP cost $10.00. After the update, all previous lifetime VIPs received a free Pet and all other VIPs were upgraded to lifetime.
Prior to the Update, those who had given money to the server were known as Donors rather than VIPs.
Donors used to be able to ride other players.
Those who donated to the server before the EULA was released (before update 1.12) received the "Vet" tag ingame. You can toggle the tag using "/toggle vet" in game to show your rank name instead.