Volcanic Isles



A screenshot of the islands

Discovery Lore

Mostly inhospitable, the islands are a relatively new formation. Wynnexcavation has set up Wynnexcavation Site C here in hopes to find valuable new minerals.
Access
Coordinates
X: -1000, Z: -3750
Suggested Level
55
Quests
Quest Starts
WynnExcavation Site C
Environment
Type/Biomes
Ocean Island
Island
Island Size
Large
Docks
V.S.S. Seaskipper
Battle
Monsters
Magma Rock
Dead Explorer
Cavern Magma Cube
Cralozide Zombie
The Volcanic Isles are located northwest of Selchar. The island is made up of 3 large volcanoes, one of which has no crater. Level 55 Magma Rocks spawn in close proximity of the volcanoes' craters. The island is not a very popular location for grinding experience, due to the positions that the Magma Rocks spawn at. Two loot chests are located on the island. There is a camp near X: -1070 Z: -3740, where WynnExcavation Site C is located.
Map
[
]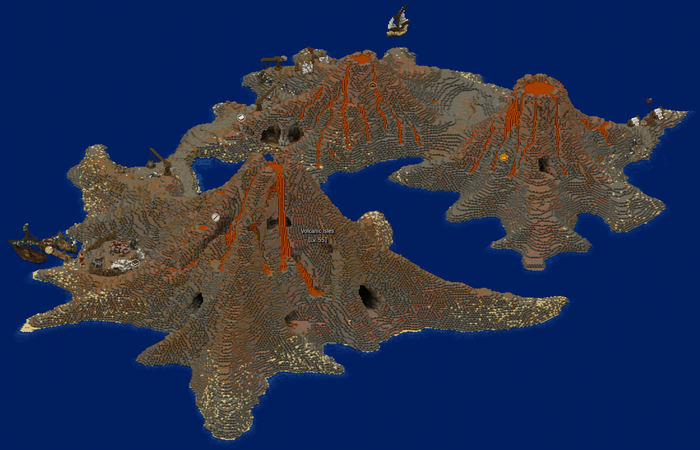 Points of interest
[
]
Buildings
[
]
NPCs
[
]
Merchants
[
]
Trivia
[
]
Grian hid on the island when the 1.10 Ocean Update came out and gave a map of the ocean to the first player who found him.
Gallery
[
]