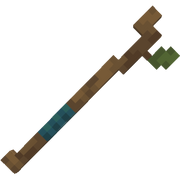 Wands are weapons used by the Mage and the Dark Wizard class. Like other weapons, there are different rarities of wands, and they range in damage and level.
Obtaining
[
]
Wands can be obtained in the following ways:
Usage
[
]
Unidentified wands have to be identified with emeralds using the Item Identifier before being used.
A wand can only be used by mages and dark wizards who meet all the minimum level requirements of it.
Melee attack
[
]
Pressing left click while holding a wand can deal melee damage to nearby mobs.
Spells
[
]
Heal/Remedy (Level 1) [Right-Left-Right] - Heal yourself and the people around you.
Teleport/Blink (Level 11) [Right-Right-Right] - Teleport in the direction of which you are facing upon casting.
Meteor/Dead Star (Level 21) [Right-Left-Left] - Cast a powerful spell that deals heavy area damage.
Ice Snake/Crystal Beast (Level 31) [Right-Right-Left] - Slow/Freeze your enemies and hurt them over long distances.
Identifications
[
]
Players can receive identification bonuses from the wand that they are holding.
List of Wands
[
]
Depressing
[
]
Weapon Name
Attack Speed
Damage
Min. Level
Oak Wood Wand
Normal
2-4
1
Stone-Hewn Wand
Slow
3-6
2
Light Oak Wood Wand
Fast
2-5
4
Birch Wood Wand
Normal
4-7
6
Andesite-Hewn Wand
Slow
7-11
8
Fiery Wand
Normal

✹

1-3
10
Light Birch Wood Wand
Fast
5-7
11
Spruce Wood Wand
Normal
7-10
13
Diorite-Hewn Wand
Slow
12-15
15
Light Spruce Wood Wand
Fast
7-11
17
Jungle Wood Wand
Normal
10-14
19
Granite-Hewn Wand
Slow
17-25
22
Light Jungle Wood Wand
Fast
12-15
25
Flawless Oak Wand
Normal
15-20
28
Flawless Stone Wand
Slow
24-31
30
Flawless Light Oak Wand
Fast
16-20
33
Flawless Birch Wand
Normal
21-30
36
Flawless Andesite Wand
Slow
35-45
39
Flawless Light Birch Wand
Fast
23-28
42
Flawless Spruce Wand
Normal
31-40
45
Flawless Diorite Wand
Slow
47-60
47
Flawless Light Spruce Wand
Fast
30-38
50
Flawless Jungle Wand
Normal
41-54
53
Flawless Granite Wand
Slow
60-77
54
Flawless Light Jungle Wand
Fast
36-45
55
Pure Oak Wood Wand
Normal
45-60
56
Pure Stone Wand
Slow
71-82
57
Pure Light Oak Wand
Fast
44-49
59
Pure Birch Wand
Normal
54-71
61
Pure Andesite Wand
Slow
86-100
63
Pure Light Birch Wand
Fast
51-61
65
Pure Spruce Wand
Normal
64-84
67
Pure Diorite Wand
Slow
99-119
69
Pure Light Spruce Wand
Fast
61-67
70
Pure Jungle Wand
Normal
70-94
72
Pure Granite Wand
Slow
100-130
74
Pure Light Jungle Wand
Fast
66-76
76
Impeccable Oak Wand
Normal
80-98
78
Impeccable Stone Wand
Slow
110-139
80
Impeccable Light Oak Wand
Fast
70-81
82
Impeccable Birch Wand
Normal
85-105
84
Impeccable Andesite Wand
Slow
115-150
86
Impeccable Light Birch Wand
Fast
76-88
89
Impeccable Spruce Wand
Normal
90-112
91
Impeccable Diorite Wand
Slow
125-155
93
Impeccable Light Spruce Wand
Fast
80-90
95
Impeccable Jungle Wand
Normal
90-120
97
Impeccable Granite Wand
Slow
130-160
98
Impeccable Light Jungle Wand
Fast
80-93
98
| Name | Lv. Min | Quest Req | Neutral Dam. | Earth Dam. | Thunder Dam. | Water Dam. | Fire Dam. | Air Dam. | Str. Min | Dex. Min | Int. Min | Def. Min | Agi. Min | Attack Speed | Slots |
| --- | --- | --- | --- | --- | --- | --- | --- | --- | --- | --- | --- | --- | --- | --- | --- |
| Quartzite Wand | 1 | – | 2-4 | – | – | – | – | – | – | – | – | – | – | Fast | 0 |
| The Scarecrow's Arm | 3 | – | 1-5 | – | – | – | – | – | – | – | – | – | – | Normal | 1 |
| Sparklock | 5 | – | 5-9 | – | – | – | – | – | – | – | – | – | – | Normal | 1 |
| Detlas' Stick | 7 | – | 5-9 | – | – | 1-4 | – | – | – | – | – | – | – | Fast | 1 |
| Clock Stick | 9 | – | 2-14 | – | – | – | – | – | – | – | – | – | – | Normal | 1 |
| Petrified Stick | 11 | – | 20-25 | – | – | – | – | – | 5 | – | – | – | – | Very Slow | 0 |
| Skeleton's Bone | 14 | – | 4-18 | – | – | – | – | – | – | – | – | – | – | Slow | 1 |
| Autumn Tree | 14 | – | 7-13 | 3-7 | – | – | – | – | 8 | – | – | – | – | Slow | 1 |
| Glowing Wand | 15 | – | 4-5 | – | – | – | 2-5 | – | – | – | – | – | – | Very Fast | 1 |
| Enchanter | 16 | – | 7-10 | – | – | 3-5 | – | – | – | – | – | – | – | Slow | 1 |
| Valix | 18 | – | 8-10 | – | – | – | – | – | – | – | – | – | – | Very Fast | 1 |
| The Brain Smasher | 20 | – | 20-35 | 7-17 | – | – | – | – | 5 | – | – | – | – | Very Slow | 1 |
| Albakaya | 22 | – | 6-12 | – | – | – | 8-12 | – | – | – | – | – | – | Normal | 1 |
| Stave of Tribute | 24 | – | 17-23 | – | – | – | – | – | – | – | – | – | – | Normal | 1 |
| Head Knocker | 25 | – | 22-30 | 22-34 | – | – | – | – | 18 | – | – | – | – | Very Slow | 0 |
| Stick of Brilliance | 26 | – | 11-18 | – | – | – | – | – | – | – | 8 | – | – | Normal | 2 |
| Dusty Staff | 26 | – | 12-20 | 12-16 | – | – | – | – | – | – | – | – | – | Slow | 1 |
| Dark Needle | 28 | – | 6-10 | – | 6-14 | – | – | – | – | 10 | – | – | – | Fast | 1 |
| Melted Ruby | 30 | – | 5-10 | – | – | – | 10-14 | – | – | – | – | – | 5 | Normal | 1 |
| Wiggling Villager | 31 | – | 5-50 | – | – | – | – | – | – | – | – | – | – | Normal | 1 |
| Salamander | 33 | – | 12-18 | – | 1-17 | – | – | – | – | – | – | 10 | – | Very Fast | 1 |
| Lullaby | 34 | – | 15-21 | – | – | 11-15 | – | – | – | – | 10 | – | – | Normal | 2 |
| Gavel's Memory | 36 | – | 1-30 | – | – | 14-18 | – | – | – | – | – | – | 15 | Normal | 2 |
| Vampire Stick | 37 | – | 22-28 | – | – | – | – | – | – | – | – | – | – | Normal | 2 |
| Viper | 38 | – | 5-10 | – | 5-20 | – | – | – | – | – | – | 22 | – | Very Fast | 1 |
| Loam | 39 | – | 21-24 | 1-15 | – | – | – | – | 10 | – | 5 | – | – | Norma | 2 |
| Bleeding Wand | 41 | – | 35-41 | – | – | – | – | – | – | – | – | – | – | Normal | 2 |
| Candlestick | 42 | – | 11-22 | – | – | – | 11-33 | – | – | – | – | – | – | Normal | 2 |
| Wirt's Leg | 42 | – | 26-34 | – | – | – | – | – | – | – | – | – | – | Fast | 2 |
| Cigar | 43 | – | 48-60 | – | – | – | – | – | – | – | – | – | – | Slow | 2 |
| Devoreuse | 45 | – | 50-58 | – | – | – | – | – | – | – | – | – | – | Slow | 1 |
| Sorcerer's Stick | 46 | – | 10-18 | – | 17-23 | – | – | – | 20 | 10 | – | – | – | Normal | 3 |
| Ciocca | 48 | – | 15-25 | – | – | 10-25 | – | – | – | – | – | – | 15 | Fast | 2 |
| Spine | 50 | – | 10-20 | – | 1-29 | – | – | – | – | 30 | – | – | – | Very Fast | 1 |
| Zombified Branch | 51 | – | 88-104 | – | – | – | – | – | – | – | – | – | – | Very Slow | 1 |
| Sunsetter | 53 | – | 26-37 | – | – | 24-29 | – | – | – | – | 15 | – | 5 | Normal | 1 |
| Burning Torch | 56 | – | 10-30 | – | – | – | 110-180 | – | – | – | – | 25 | – | Very Slow | 0 |
| Maple | 58 | – | 47-63 | 22-34 | – | – | – | – | – | – | – | – | – | Normal | 2 |
| Melon Cutter | 58 | – | 0-0 | 0-135 | – | – | – | – | 30 | – | – | – | – | Normal | 0 |
| Static Wand | 60 | – | 1-30 | – | 1-60 | – | – | – | – | 30 | – | – | – | Very Fast | 1 |
| Flush | 61 | – | 0-0 | – | – | 40-85 | – | – | – | – | 30 | – | – | Normal | 2 |
| The Elder Wand | 62 | – | 18-28 | 40-48 | – | 24-26 | – | – | 10 | – | 10 | – | – | Slow | 2 |
| Bianco | 64 | – | 77-93 | – | – | – | – | – | – | – | – | – | – | Normal | 3 |
| Rotten Wood | 65 | – | 1-5 | – | – | – | – | – | – | – | – | – | – | Slow | 2 |
| Arakadicus' Leg | 67 | – | 40-60 | 30-45 | 10-60 | – | – | – | 15 | 15 | – | – | – | Slow | 2 |
| Stasis | 68 | – | 100-100 | 150-150 | – | – | – | – | 30 | – | – | – | – | Very Slow | 2 |
| Dirge | 69 | – | 45-80 | – | – | 55-90 | – | – | 20 | 10 | – | – | – | Slow | 2 |
| Plasma Staff | 70 | – | – | – | 7-46 | – | 25-54 | – | – | 20 | – | 20 | – | Very Fast | 2 |
| Lichclaw | 71 | – | 55-75 | – | 25-55 | – | – | – | – | 20 | – | – | – | Normal | 3 |
| Moonsetter | 73 | – | 30-75 | – | – | – | 45-60 | – | – | 10 | – | 20 | – | Normal | 1 |
| Subsumere | 76 | – | 60-90 | – | 20-60 | 40-50 | – | – | – | 15 | 20 | – | – | Slow | 2 |
| Gnarl | 78 | – | 100-150 | 150-200 | – | – | – | – | 20 | – | – | – | – | Very Slow | 2 |
| Windchime | 80 | – | 60-70 | – | – | 30-50 | – | – | – | – | – | – | – | Fast | 3 |
| Aldorei's Vision | 82 | – | 40-60 | 50-70 | – | 45-55 | – | – | 15 | – | 15 | – | – | Slow | 2 |
| Essence Bastion | 84 | – | 140-180 | 125-155 | – | – | – | – | – | – | – | 30 | – | Very Slow | 2 |
| Canyon Spirit | 85 | The Lost | 50-70 | 60-100 | – | – | – | – | – | – | – | – | – | Normal | 2 |
| Deepwood Root | 86 | – | 80-120 | 75-125 | – | – | – | – | – | – | – | – | – | Slow | 3 |
| Heavenly Wisp | 88 | – | 20-40 | – | – | 30-60 | – | 30-60 | – | – | 20 | – | 20 | Fast | 2 |
| Lightningrod | 90 | – | 25-50 | – | 35-70 | – | – | – | – | 30 | – | – | – | Very Fast | 2 |
| Topaz Staff | 91 | – | 30-60 | – | 1-100 | – | – | – | – | 25 | – | 25 | – | Very Fast | 2 |
| Rainstorm | 93 | – | 90-120 | – | – | 50-80 | – | – | – | 15 | 25 | – | – | Normal | 1 |
| Magma Chalice | 95 | – | 110-155 | – | – | – | 75-110 | – | 20 | – | – | 20 | – | Slow | 3 |
| Yggdrasil | 97 | – | 70-90 | 90-120 | – | – | – | – | 25 | – | 15 | – | – | Normal | 2 |
| Cyclone | 100 | – | – | – | – | – | – | 100-130 | – | 10 | – | – | 30 | Very Fast | 3 |
| Name | Lv. Min | Quest Req | Neutral Dam. | Earth Dam. | Thunder Dam. | Water Dam. | Fire Dam. | Air Dam. | Str. Min | Dex. Min | Int. Min | Def. Min | Agi. Min | Attack Speed | Slots |
| --- | --- | --- | --- | --- | --- | --- | --- | --- | --- | --- | --- | --- | --- | --- | --- |
| Paradise | 2 | – | 3-5 | – | – | – | – | – | – | – | – | – | – | Normal | 1 |
| Meltok | 8 | – | 6-12 | – | – | – | – | – | – | – | – | – | – | Fast | 1 |
| The Magician | 11 | – | 2-5 | – | – | 4-7 | – | – | – | – | 5 | – | – | Normal | ? |
| Midnight Bell | 13 | – | 5-11 | – | – | – | – | – | – | – | – | – | 6 | Normal | 1 |
| Kelight's Toothbrush | 17 | – | 16-21 | – | 8-9 | – | – | – | – | – | – | – | – | Slow | 1 |
| Psychoruin | 20 | – | – | – | 1-22 | 10-13 | – | – | – | 6 | 6 | – | – | Normal | 1 |
| Walking Stick | 20 | – | 14-20 | – | – | – | – | – | – | – | – | – | 5 | Fast | 1 |
| Celestial | 23 | – | 7-16 | – | – | – | – | – | – | – | – | – | 8 | Fast | 1 |
| Kamikaze | 27 | – | 16-20 | – | – | – | 20-24 | – | – | – | – | 18 | – | Slow | 1 |
| Broken Harp | 31 | – | 25-40 | – | – | 15-20 | – | – | – | – | 10 | – | – | Slow | 1 |
| Tribal Flute | 35 | – | 13-22 | – | – | – | – | – | – | – | – | – | 15 | Fast | 1 |
| Phoenix | 36 | – | 12-18 | – | – | – | 12-24 | – | – | – | – | 30 | – | Slow | 2 |
| Curse | 38 | – | 6-10 | 8-10 | – | 8-10 | – | – | 5 | – | – | – | – | Very Fast | ? |
| Magicant | 41 | – | – | 5-15 | 5-15 | 5-15 | 5-15 | 5-15 | – | – | – | – | – | Normal | 2 |
| Soul | 41 | – | 10-30 | – | – | – | – | – | – | – | – | – | 15 | Fast | 1 |
| Frozen Brook | 44 | – | 55-80 | – | – | 30-55 | – | – | – | – | 20 | – | – | Very Slow | 2 |
| Unholy Wand | 48 | – | 15-35 | – | 1-60 | – | – | – | – | 20 | – | – | – | Normal | 2 |
| Monk's Battle Staff | 50 | – | 70-90 | 30-60 | – | – | – | – | 29 | – | – | – | – | Very Slow | ? |
| Hellkite's Wing | 52 | – | – | – | 32-72 | – | 40-48 | – | – | 10 | – | 20 | – | Slow | 2 |
| Blight | 55 | – | 10-20 | 10-20 | – | – | – | – | – | – | – | – | – | Slow | 2 |
| Relic Wand | 55 | – | 12-17 | 12-17 | 12-17 | 12-17 | 12-17 | 12-17 | – | – | – | – | – | Normal | 3 |
| Cerid's Dynamo | 59 | – | 12-25 | – | – | – | – | – | 5 | 5 | 5 | 5 | 5 | Super Fast | 4 |
| Sunrise | 63 | – | – | – | – | – | 30-35 | – | – | – | – | 30 | 30 | Normal | 2 |
| North Pole | 65 | – | 34-50 | – | – | – | 17-35 | 17-35 | – | – | – | 20 | 20 | Fast | 2 |
| Frustration | 67 | – | 0-77 | – | – | – | 39-39 | – | – | – | – | 35 | – | Very Fast | 2 |
| Sanare | 69 | – | – | – | – | 80-100 | – | – | – | – | 35 | – | – | Normal | 3 |
| Emerald Staff | 72 | – | 60-90 | 60-80 | – | – | – | – | – | – | – | – | – | Slow | 2 |
| Celebration | 75 | – | 110-130 | – | – | – | – | – | – | – | – | – | – | Normal | 3 |
| Hydra | 78 | – | 33-99 | – | – | – | 77-111 | – | – | – | – | 55 | – | Normal | 2 |
| Crystal Thorn | 80 | – | – | 65-90 | – | 60-70 | – | – | 15 | – | 15 | – | – | Normal | 2 |
| Rot of Dernel | 83 | – | 25-50 | 25-50 | – | – | – | – | – | – | – | – | – | Very Slow | ? |
| Voidlight | 88 | – | – | – | 1-200 | – | – | – | – | 25 | – | – | 25 | Normal | 3 |
| Antipode | 91 | – | 30-60 | – | – | 35-60 | 35-60 | – | – | – | 25 | 25 | – | Fast | 2 |
| Whimsy | 93 | – | 1-15 | – | – | – | – | – | – | – | – | – | 40 | Super Fast | 2 |
| Requiem | 95 | – | 60-70 | – | – | 130-140 | – | – | – | – | 40 | – | – | Normal | 1 |
| Manablast | 97 | – | – | 75-125 | 75-125 | 75-125 | 75-125 | 75-125 | 15 | 15 | 15 | 15 | 15 | Very Slow | 2 |
| Predposledni | 99 | – | 180-230 | – | – | – | – | ? | – | – | – | – | – | Normal | 3 |
| Name | Lv. Min | Quest Req | Neutral Dam. | Earth Dam. | Thunder Dam. | Water Dam. | Fire Dam. | Air Dam. | Str. Min | Dex. Min | Int. Min | Def. Min | Agi. Min | Attack Speed | Slots |
| --- | --- | --- | --- | --- | --- | --- | --- | --- | --- | --- | --- | --- | --- | --- | --- |
| Ancient Wand | 11 | - | 14-19 | - | - | - | - | - | - | - | - | - | - | Normal | 1 |
| Reticence | 18 | - | 20-30 | - | - | - | - | - | - | - | - | - | - | Normal | 1 |
| Effervescence | 24 | - | 0-4 | - | - | 0-44 | - | - | - | - | 24 | - | - | Very Fast | 0 |
| Detlas' Legacy | 25 | - | 15-25 | - | 5-30 | 10-15 | - | - | - | 10 | 5 | - | - | Slow | 2 |
| Haros' Oar | 30 | Rotten passage (Boss Altar) | 25-37 | - | 12-18 | - | - | - | - | - | 15 | - | - | Normal | 2 |
| Red Candle | 30 | - | - | - | - | - | 30-50 | - | - | - | - | 15 | - | Normal | 2 |
| Hymn of the Dead | 31 | - | - | - | - | - | - | 15-20 | - | - | - | - | - | Normal | 1 |
| Blossom | 33 | - | - | 40-65 | - | - | - | - | 30 | - | 10 | - | - | Normal | 2 |
| Waves Raiser | 35 | - | - | - | - | 44-76 | - | - | - | - | 35 | - | - | Slow | 1 |
| Sprout | 40 | - | 40-50 | 110-130 | - | - | - | - | 30 | - | - | - | - | Very Slow | 2 |
| Glare | 41 | - | 2-9 | - | 27-34 | - | - | - | - | 15 | - | - | - | Very Fast | 2 |
| Sage | 47 | - | 54-76 | - | - | - | - | - | - | - | - | - | - | Fast | 1 |
| Bough of Fir | 53 | - | 40-65 | 20-35 | - | - | - | - | 20 | - | 10 | - | - | Normal | 2 |
| Olux's Prized Wand | 55 | The Shadow of the Beast | 15-40 | 30-50 | - | 15-30 | - | - | - | - | - | - | - | Normal | 2 |
| Diablo | 58 | - | 50-75 | - | - | - | 60-95 | - | 5 | - | - | 10 | - | Slow | 1 |
| Ohms' Wish | 64 | - | 30-50 | - | 20-40 | - | - | 10-30 | - | 25 | - | - | 25 | Fast | 2 |
| Ethereal | 70 | - | 15-30 | - | - | 50-75 | - | - | - | - | 60 | - | - | Very Fast | 2 |
| Afterimage | 71 | - | 22-28 | - | - | - | - | 37-45 | - | - | - | - | 90 | Super Fast | 2 |
| Depth | 74 | - | 50-55 | - | - | - | 30-50 | 60-65 | - | - | - | 20 | 40 | Normal | 3 |
| Bob's Mythic Wand | 75 | Reincarnation | 155-215 | - | - | - | - | - | - | - | - | - | - | Normal | 3 |
| Prymari | 76 | - | 60-100 | - | 20-33 | 20-33 | 20-33 | - | - | 25 | 25 | 25 | - | Normal | 3 |
| Empire Builder | 79 | - | 10-35 | - | - | - | - | - | - | - | - | - | - | Fast | 8 |
| Gert Wand | 79 | The Hunger of Gerts Part II | 150-410 | - | - | - | - | - | 40 | - | - | - | 40 | Slow | 2 |
| Gert Super Special Magic Ultistick | 80 | The Hunger of Gerts Part II | 1-3 | - | - | - | - | - | - | - | - | - | - | Slow | 0 |
| Bismuthinite | 82 | - | 140-245 | 60-105 | - | - | - | - | 30 | - | - | - | - | Slow | 2 |
| Thanos Ironstaff | 82 | - | 80-100 | 35-55 | - | 35-55 | - | - | 30 | - | 30 | - | - | Normal | 2 |
| Lunar Spine | 87 | - | 60-100 | - | - | 70-90 | - | - | - | - | 20 | - | 40 | Fast | 3 |
| Judas | 89 | - | 0-100 | - | 50-50 | - | - | - | - | 100 | - | - | - | Super Fast | 3 |
| Nepta Floodbringer | 93 | - | - | - | - | 80-100 | - | - | - | - | 110 | - | - | Super Fast | 2 |
| Phoenix Wing | 94 | - | 35-75 | - | - | - | 45-75 | 30-50 | - | - | - | 30 | 20 | Fast | 2 |
| Morrowind | 96 | - | 30-90 | - | - | - | - | 60-180 | - | - | - | - | 75 | Fast | 2 |
| Cascade | 98 | - | 12-24 | 12-24 | 12-24 | 12-24 | 12-24 | 12-24 | 15 | 15 | 15 | 15 | 15 | Very Fast | 3 |
| Bonder | 99 | - | 200-450 | - | - | - | - | - | - | - | - | - | - | Slow | 4 |
| Infused Hive Wand | 100 | The Qira Hive | 150-250 | - | - | - | - | - | - | - | - | - | - | Fast | - |
| Name | Lv. Min | Quest Req | Neutral Dam. | Earth Dam. | Thunder Dam. | Water Dam. | Fire Dam. | Air Dam. | Str. Min | Dex. Min | Int. Min | Def. Min | Agi. Min | Attack Speed | Slots |
| --- | --- | --- | --- | --- | --- | --- | --- | --- | --- | --- | --- | --- | --- | --- | --- |
| Pure | 65 | – | 0-5 | – | – | 20-45 | – | 15-55 | – | – | 50 | – | 30 | Normal | 0 |
| Lament | 96 | – | 70-90 | – | – | 180-190 | – | – | – | – | 110 | – | – | Slow | 3 |
| Gaia | 97 | – | 150-220 | 380-490 | – | – | – | – | 105 | – | – | – | – | Very Slow | 3 |
| Monster | 98 | – | 110-140 | – | – | – | 160-220 | – | – | – | – | 110 | – | Slow | 3 |
| Fatal | 99 | – | - | – | 1-360 | – | – | – | – | 110 | – | – | – | Very Fast | 3 |
| | 99 | – | 40-70 | – | – | – | – | 190-220 | – | – | – | – | 130 | Very Fast | 3 |
| Singularity | 99 | - | - | 175-225 | 75-325 | 150-250 | 125-275 | 100-300 | 42 | 42 | 42 | 42 | 42 | Super Slow | 15 |
| Quetzalcoatl | 103 | - | 25-45 | 50-70 | - | - | - | 45-75 | 70 | - | - | - | 70 | Super Fast | 4 |