Wands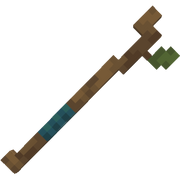 Wands are weapons used by the Mage and the Dark Wizard class. Like other weapons, there are different rarities of wands, and they range in damage and level.
Wands can be obtained in the following ways:
Unidentified wands have to be identified with emeralds using the Item Identifier before being used.
A wand can only be used by mages and dark wizards who meet all the minimum level requirements of it.
Pressing left click while holding a wand can deal melee damage to nearby mobs.
Heal/Remedy (Level 1) [Right-Left-Right] - Heal yourself and the people around you.
Teleport/Blink (Level 11) [Right-Right-Right] - Teleport in the direction of which you are facing upon casting.
Meteor/Dead Star (Level 21) [Right-Left-Left] - Cast a powerful spell that deals heavy area damage.
Ice Snake/Crystal Beast (Level 31) [Right-Right-Left] - Slow/Freeze your enemies and hurt them over long distances.
Players can receive identification bonuses from the wand that they are holding.
| Weapon Name | Attack Speed | Damage | Min. Level |
| --- | --- | --- | --- |
| Oak Wood Stick | Normal | 2-4 | 1 |
| Stone-hewn Stick | Slow | 3-6 | 2 |
| Light Oak Wood Stick | Fast | 2-5 | 4 |
| Birch Wood Stick | Normal | 4-7 | 6 |
| Andesite-hewn Stick | Slow | 7-11 | 8 |
| Spruce Wood Stick | Normal | 7-10 | 13 |
| Diorite-hewn Stick | Slow | 12-15 | 15 |
| Light Spruce Wood Stick | Fast | 7-11 | 17 |
| Jungle Wood Stick | Normal | 10-14 | 19 |
| Granite-hewn Stick | Slow | 17-25 | 22 |
| Flawless Oak Stick | Normal | 15-20 | 28 |
| Flawless Stone Stick | Slow | 24-30 | 30 |
| Flawless Light Oak Stick | Fast | 16-20 | 33 |
| Flawless Birch Stick | Normal | 21-30 | 36 |
| Flawless Light Birch Stick | Fast | 22-28 | 42 |
| Flawless Spruce Stick | Normal | 31-41 | 45 |
| Flawless Diorite Stick | Slow | 48-60 | 47 |
| Flawless Light Spruce Stick | Fast | 30-39 | 50 |
| Flawless Jungle Stick | Normal | 41-53 | 53 |
| Flawless Granite Stick | Slow | 60-77 | 54 |
| Flawless Light Jungle Stick | Fast | 36-44 | 55 |
| Pure Oak Wood Stick | Normal | 46-60 | 56 |
| Pure Stone Stick | Slow | 71-83 | 57 |
| Pure Light Oak Stick | Fast | 45-50 | 59 |
| Pure Birch Stick | Normal | 53-71 | 61 |
| Pure Andesite Stick | Slow | 76-91 | 63 |
| Pure Light Birch Stick | Fast | 51-61 | 65 |
| Pure Spruce Stick | Normal | 64-84 | 67 |
| Pure Diorite Stick | Slow | 99-120 | 69 |
| Pure Light Spruce Stick | Fast | 61-67 | 70 |
| Pure Jungle Stick | Normal | 73-95 | 72 |
| Pure Granite Stick | Slow | 110-136 | 74 |
| Pure Light Jungle Stick | Fast | 69-80 | 76 |
| Impeccable Oak Stick | Normal | 85-109 | 78 |
| Impeccable Stone Stick | Slow | 129-166 | 80 |
| Impeccable Light Oak Stick | Fast | 87-101 | 82 |
| Impeccable Birch Stick | Normal | 97-123 | 84 |
| Impeccable Andesite Stick | Slow | 146-176 | 86 |
| Impeccable Light Birch Stick | Fast | 92-104 | 89 |
| Impeccable Spruce Stick | Normal | 114-142 | 91 |
| Impeccable Diorite Stick | Slow | 171-203 | 93 |
| Impeccable Light Spruce Stick | Fast | 105-117 | 95 |
| Impeccable Jungle Stick | Normal | 130-160 | 97 |
| Impeccable Granite Stick | Slow | 190-220 | 98 |
| Impeccable Light Jungle Stick | Fast | 110-125 | 98 |
| Name | Lv. Min | Quest Req | Neutral Dam. | Earth Dam. | Thunder Dam. | Water Dam. | Fire Dam. | Air Dam. | Str. Min | Dex. Min | Int. Min | Def. Min | Agi. Min | Attack Speed | Slots |
| --- | --- | --- | --- | --- | --- | --- | --- | --- | --- | --- | --- | --- | --- | --- | --- |
| Quartzite Wand | 1 | – | 2-4 | – | – | – | – | – | – | – | – | – | – | Fast | 0 |
| The Scarecrow's Arm | 3 | – | 1-5 | – | – | – | – | – | – | – | – | – | – | Normal | 1 |
| Sparklock | 5 | – | 5-9 | – | – | – | – | – | – | – | – | – | – | Normal | 1 |
| Detlas' Stick | 7 | – | 5-9 | – | – | 1-4 | – | – | – | – | – | – | – | Fast | 1 |
| Clock Stick | 9 | – | 2-14 | – | – | – | – | – | – | – | – | – | – | Normal | 1 |
| Petrified Stick | 11 | – | 20-25 | – | – | – | – | – | 5 | – | – | – | – | Very Slow | 0 |
| Skeleton's Bone | 14 | – | 4-18 | – | – | – | – | – | – | – | – | – | – | Slow | 1 |
| Autumn Tree | 14 | – | 7-13 | 3-7 | – | – | – | – | 8 | – | – | – | – | Slow | 1 |
| Glowing Wand | 15 | – | 4-5 | – | – | – | 2-5 | – | – | – | – | – | – | Very Fast | 1 |
| Enchanter | 16 | – | 7-10 | – | – | 3-5 | – | – | – | – | – | – | – | Slow | 1 |
| Valix | 18 | – | 8-10 | – | – | – | – | – | – | – | – | – | – | Very Fast | 1 |
| The Brain Smasher | 20 | – | 20-35 | 7-17 | – | – | – | – | 5 | – | – | – | – | Very Slow | 1 |
| Albakaya | 22 | – | 6-12 | – | – | – | 8-12 | – | – | – | – | – | – | Normal | 1 |
| Stave of Tribute | 24 | – | 17-23 | – | – | – | – | – | – | – | – | – | – | Normal | 1 |
| Head Knocker | 25 | – | 22-30 | 22-34 | – | – | – | – | 18 | – | – | – | – | Very Slow | 0 |
| Stick of Brilliance | 26 | – | 11-18 | – | – | – | – | – | – | – | 8 | – | – | Normal | 2 |
| Dusty Staff | 26 | – | 12-20 | 12-16 | – | – | – | – | – | – | – | – | – | Slow | 1 |
| Dark Needle | 28 | – | 6-10 | – | 6-14 | – | – | – | – | 10 | – | – | – | Fast | 1 |
| Melted Ruby | 30 | – | 5-10 | – | – | – | 10-14 | – | – | – | – | – | 5 | Normal | 1 |
| Wiggling Villager | 31 | – | 5-50 | – | – | – | – | – | – | – | – | – | – | Normal | 1 |
| Salamander | 33 | – | 12-18 | – | 1-17 | – | – | – | – | – | – | 10 | – | Very Fast | 1 |
| Lullaby | 34 | – | 15-21 | – | – | 11-15 | – | – | – | – | 10 | – | – | Normal | 2 |
| Gavel's Memory | 36 | – | 1-30 | – | – | 14-18 | – | – | – | – | – | – | 15 | Normal | 2 |
| Vampire Stick | 37 | – | 22-28 | – | – | – | – | – | – | – | – | – | – | Normal | 2 |
| Viper | 38 | – | 5-10 | – | 5-20 | – | – | – | – | – | – | 22 | – | Very Fast | 1 |
| Loam | 39 | – | 21-24 | 1-15 | – | – | – | – | 10 | – | 5 | – | – | Norma | 2 |
| Bleeding Wand | 41 | – | 35-41 | – | – | – | – | – | – | – | – | – | – | Normal | 2 |
| Candlestick | 42 | – | 11-22 | – | – | – | 11-33 | – | – | – | – | – | – | Normal | 2 |
| Wirt's Leg | 42 | – | 26-34 | – | – | – | – | – | – | – | – | – | – | Fast | 2 |
| Cigar | 43 | – | 48-60 | – | – | – | – | – | – | – | – | – | – | Slow | 2 |
| Devoreuse | 45 | – | 50-58 | – | – | – | – | – | – | – | – | – | – | Slow | 1 |
| Sorcerer's Stick | 46 | – | 10-18 | – | 17-23 | – | – | – | 20 | 10 | – | – | – | Normal | 3 |
| Ciocca | 48 | – | 15-25 | – | – | 10-25 | – | – | – | – | – | – | 15 | Fast | 2 |
| Spine | 50 | – | 10-20 | – | 1-29 | – | – | – | – | 30 | – | – | – | Very Fast | 1 |
| Zombified Branch | 51 | – | 88-104 | – | – | – | – | – | – | – | – | – | – | Very Slow | 1 |
| Sunsetter | 53 | – | 26-37 | – | – | 24-29 | – | – | – | – | 15 | – | 5 | Normal | 1 |
| Burning Torch | 56 | – | 10-30 | – | – | – | 110-180 | – | – | – | – | 25 | – | Very Slow | 0 |
| Maple | 58 | – | 47-63 | 22-34 | – | – | – | – | – | – | – | – | – | Normal | 2 |
| Melon Cutter | 58 | – | 0-0 | 0-135 | – | – | – | – | 30 | – | – | – | – | Normal | 0 |
| Static Wand | 60 | – | 1-30 | – | 1-60 | – | – | – | – | 30 | – | – | – | Very Fast | 1 |
| Flush | 61 | – | 0-0 | – | – | 40-85 | – | – | – | – | 30 | – | – | Normal | 2 |
| The Elder Wand | 62 | – | 18-28 | 40-48 | – | 24-26 | – | – | 10 | – | 10 | – | – | Slow | 2 |
| Bianco | 64 | – | 77-93 | – | – | – | – | – | – | – | – | – | – | Normal | 3 |
| Rotten Wood | 65 | – | 1-5 | – | – | – | – | – | – | – | – | – | – | Slow | 2 |
| Arakadicus' Leg | 67 | – | 40-60 | 30-45 | 10-60 | – | – | – | 15 | 15 | – | – | – | Slow | 2 |
| Stasis | 68 | – | 100-100 | 150-150 | – | – | – | – | 30 | – | – | – | – | Very Slow | 2 |
| Dirge | 69 | – | 45-80 | – | – | 55-90 | – | – | 20 | 10 | – | – | – | Slow | 2 |
| Plasma Staff | 70 | – | – | – | 7-46 | – | 25-54 | – | – | 20 | – | 20 | – | Very Fast | 2 |
| Lichclaw | 71 | – | 55-75 | – | 25-55 | – | – | – | – | 20 | – | – | – | Normal | 3 |
| Moonsetter | 73 | – | 30-75 | – | – | – | 45-60 | – | – | 10 | – | 20 | – | Normal | 1 |
| Subsumere | 76 | – | 60-90 | – | 20-60 | 40-50 | – | – | – | 15 | 20 | – | – | Slow | 2 |
| Gnarl | 78 | – | 100-150 | 150-200 | – | – | – | – | 20 | – | – | – | – | Very Slow | 2 |
| Windchime | 80 | – | 60-70 | – | – | 30-50 | – | – | – | – | – | – | – | Fast | 3 |
| Aldorei's Vision | 82 | – | 40-60 | 50-70 | – | 45-55 | – | – | 15 | – | 15 | – | – | Slow | 2 |
| Essence Bastion | 84 | – | 140-180 | 125-155 | – | – | – | – | – | – | – | 30 | – | Very Slow | 2 |
| Canyon Spirit | 85 | The Lost | 50-70 | 60-100 | – | – | – | – | – | – | – | – | – | Normal | 2 |
| Deepwood Root | 86 | – | 80-120 | 75-125 | – | – | – | – | – | – | – | – | – | Slow | 3 |
| Heavenly Wisp | 88 | – | 20-40 | – | – | 30-60 | – | 30-60 | – | – | 20 | – | 20 | Fast | 2 |
| Lightningrod | 90 | – | 25-50 | – | 35-70 | – | – | – | – | 30 | – | – | – | Very Fast | 2 |
| Topaz Staff | 91 | – | 30-60 | – | 1-100 | – | – | – | – | 25 | – | 25 | – | Very Fast | 2 |
| Rainstorm | 93 | – | 90-120 | – | – | 50-80 | – | – | – | 15 | 25 | – | – | Normal | 1 |
| Magma Chalice | 95 | – | 110-155 | – | – | – | 75-110 | – | 20 | – | – | 20 | – | Slow | 3 |
| Yggdrasil | 97 | – | 70-90 | 90-120 | – | – | – | – | 25 | – | 15 | – | – | Normal | 2 |
| Cyclone | 100 | – | – | – | – | – | – | 100-130 | – | 10 | – | – | 30 | Very Fast | 3 |
| Name | Lv. Min | Quest Req | Neutral Dam. | Earth Dam. | Thunder Dam. | Water Dam. | Fire Dam. | Air Dam. | Str. Min | Dex. Min | Int. Min | Def. Min | Agi. Min | Attack Speed | Slots |
| --- | --- | --- | --- | --- | --- | --- | --- | --- | --- | --- | --- | --- | --- | --- | --- |
| Paradise | 2 | – | 3-5 | – | – | – | – | – | – | – | – | – | – | Normal | 1 |
| Meltok | 8 | – | 6-12 | – | – | – | – | – | – | – | – | – | – | Fast | 1 |
| The Magician | 11 | – | 2-5 | – | – | 4-7 | – | – | – | – | 5 | – | – | Normal | ? |
| Midnight Bell | 13 | – | 5-11 | – | – | – | – | – | – | – | – | – | 6 | Normal | 1 |
| Kelight's Toothbrush | 17 | – | 16-21 | – | 8-9 | – | – | – | – | – | – | – | – | Slow | 1 |
| Psychoruin | 20 | – | – | – | 1-22 | 10-13 | – | – | – | 6 | 6 | – | – | Normal | 1 |
| Walking Stick | 20 | – | 14-20 | – | – | – | – | – | – | – | – | – | 5 | Fast | 1 |
| Celestial | 23 | – | 7-16 | – | – | – | – | – | – | – | – | – | 8 | Fast | 1 |
| Kamikaze | 27 | – | 16-20 | – | – | – | 20-24 | – | – | – | – | 18 | – | Slow | 1 |
| Broken Harp | 31 | – | 25-40 | – | – | 15-20 | – | – | – | – | 10 | – | – | Slow | 1 |
| Tribal Flute | 35 | – | 13-22 | – | – | – | – | – | – | – | – | – | 15 | Fast | 1 |
| Phoenix | 36 | – | 12-18 | – | – | – | 12-24 | – | – | – | – | 30 | – | Slow | 2 |
| Curse | 38 | – | 6-10 | 8-10 | – | 8-10 | – | – | 5 | – | – | – | – | Very Fast | ? |
| Magicant | 41 | – | – | 5-15 | 5-15 | 5-15 | 5-15 | 5-15 | – | – | – | – | – | Normal | 2 |
| Soul | 41 | – | 10-30 | – | – | – | – | – | – | – | – | – | 15 | Fast | 1 |
| Frozen Brook | 44 | – | 55-80 | – | – | 30-55 | – | – | – | – | 20 | – | – | Very Slow | 2 |
| Unholy Wand | 48 | – | 15-35 | – | 1-60 | – | – | – | – | 20 | – | – | – | Normal | 2 |
| Monk's Battle Staff | 50 | – | 70-90 | 30-60 | – | – | – | – | 32 | – | – | – | – | Very Slow | ? |
| Hellkite's Wing | 52 | – | – | – | 32-72 | – | 40-48 | – | – | 10 | – | 20 | – | Slow | 2 |
| Blight | 55 | – | 10-20 | 10-20 | – | – | – | – | – | – | – | – | – | Slow | 2 |
| Relic Wand | 55 | – | 12-17 | 12-17 | 12-17 | 12-17 | 12-17 | 12-17 | – | – | – | – | – | Normal | 3 |
| Cerid's Dynamo | 59 | – | 12-25 | – | – | – | – | – | 5 | 5 | 5 | 5 | 5 | Super Fast | 4 |
| Sunrise | 63 | – | – | – | – | – | 30-35 | – | – | – | – | 30 | 30 | Normal | 2 |
| North Pole | 65 | – | 34-50 | – | – | – | 17-35 | 17-35 | – | – | – | 20 | 20 | Fast | 2 |
| Frustration | 67 | – | 0-77 | – | – | – | 39-39 | – | – | – | – | 35 | – | Very Fast | 2 |
| Sanare | 69 | – | – | – | – | 80-100 | – | – | – | – | 35 | – | – | Normal | 3 |
| Emerald Staff | 72 | – | 60-90 | 60-80 | – | – | – | – | – | – | – | – | – | Slow | 2 |
| Celebration | 75 | – | 110-130 | – | – | – | – | – | – | – | – | – | – | Normal | 3 |
| Hydra | 78 | – | 33-99 | – | – | – | 77-111 | – | – | – | – | 55 | – | Normal | 2 |
| Crystal Thorn | 80 | – | – | 65-90 | – | 60-70 | – | – | 15 | – | 15 | – | – | Normal | 2 |
| Rot of Dernel | 83 | – | 25-50 | 25-50 | – | – | – | – | – | – | – | – | – | Very Slow | ? |
| Voidlight | 88 | – | – | – | 1-200 | – | – | – | – | 25 | – | – | 25 | Normal | 3 |
| Antipode | 91 | – | 30-60 | – | – | 35-60 | 35-60 | – | – | – | 25 | 25 | – | Fast | 2 |
| Whimsy | 93 | – | 1-15 | – | – | – | – | – | – | – | – | – | 40 | Super Fast | ? |
| Requiem | 95 | – | 60-70 | – | – | 130-140 | – | – | – | – | 40 | – | – | Normal | 1 |
| Manablast | 97 | – | – | 75-125 | 75-125 | 75-125 | 75-125 | 75-125 | 15 | 15 | 15 | 15 | 15 | Very Slow | 2 |
| Predposledni | 99 | – | 180-230 | – | – | – | – | ? | – | – | – | – | – | Normal | 3 |
| Name | Lv. Min | Quest Req | Neutral Dam. | Earth Dam. | Thunder Dam. | Water Dam. | Fire Dam. | Air Dam. | Str. Min | Dex. Min | Int. Min | Def. Min | Agi. Min | Attack Speed | Slots |
| --- | --- | --- | --- | --- | --- | --- | --- | --- | --- | --- | --- | --- | --- | --- | --- |
| Ancient Wand | 11 | - | 14-19 | - | - | - | - | - | - | - | - | - | - | Normal | 1 |
| Reticence | 18 | - | 20-30 | - | - | - | - | - | - | - | - | - | - | Normal | 1 |
| Detlas' Legacy | 25 | - | 15-25 | - | 5-30 | 10-15 | - | - | - | 10 | 5 | - | - | Slow | 2 |
| Haros' Oar | 30 | Rotten passage (Boss Altar) | 25-37 | - | 12-18 | - | - | - | - | - | 15 | - | - | Normal | 2 |
| Red Candle | 30 | - | - | - | - | - | 30-50 | - | - | - | - | 15 | - | Normal | 2 |
| Hymn of the Dead | 31 | - | - | - | - | - | - | 15-20 | - | - | - | - | - | Normal | 1 |
| Blossom | 33 | - | - | 40-65 | - | - | - | - | 30 | - | 10 | - | - | Normal | 2 |
| Waves Raiser | 35 | - | - | - | - | 44-76 | - | - | - | - | 35 | - | - | Slow | 1 |
| Sprout | 40 | - | 40-50 | 110-130 | - | - | - | - | 30 | - | - | - | - | Very Slow | 2 |
| Glare | 41 | - | 2-9 | - | 27-34 | - | - | - | - | 15 | - | - | - | Very Fast | 2 |
| Sage | 47 | - | 54-76 | - | - | - | - | - | - | - | - | - | - | Fast | 1 |
| Bough of Fir | 53 | - | 40-65 | 20-35 | - | - | - | - | 20 | - | 10 | - | - | Normal | 2 |
| Olux's Prized Wand | 55 | The Shadow of the Beast | 15-40 | 30-50 | - | 15-30 | - | - | - | - | - | - | - | Normal | 2 |
| Diablo | 58 | - | 50-75 | - | - | - | 60-95 | - | 5 | - | - | 10 | - | Slow | 1 |
| Ohms' Wish | 64 | - | 30-50 | - | 20-40 | - | - | 10-30 | - | 25 | - | - | 25 | Fast | 2 |
| Ethereal | 70 | - | 15-30 | - | - | 50-75 | - | - | - | - | 60 | - | - | Very Fast | 2 |
| Afterimage | 71 | - | 22-28 | - | - | - | - | 37-45 | - | - | - | - | 90 | Super Fast | 2 |
| Depth | 74 | - | 50-55 | - | - | - | 30-50 | 60-65 | - | - | - | 20 | 40 | Normal | 3 |
| Bob's Mythic Wand | 75 | Reincarnation | 155-215 | - | - | - | - | - | - | - | - | - | - | Normal | 3 |
| Prymari | 76 | - | 60-100 | - | 20-33 | 20-33 | 20-33 | - | - | 25 | 25 | 25 | - | Normal | 3 |
| Empire Builder | 79 | - | 10-35 | - | - | - | - | - | - | - | - | - | - | Fast | 8 |
| Gert Wand | 79 | The Hunger of Gerts Part II | 150-410 | - | - | - | - | - | 40 | - | - | - | 40 | Slow | 2 |
| Gert Super Special Magic Ultistick | 80 | The Hunger of Gerts Part II | 1-3 | - | - | - | - | - | - | - | - | - | - | Slow | 0 |
| Bismuthinite | 82 | - | 140-245 | 60-105 | - | - | - | - | 30 | - | - | - | - | Slow | 2 |
| Thanos Ironstaff | 82 | - | 80-100 | 35-55 | - | 35-55 | - | - | 30 | - | 30 | - | - | Normal | 2 |
| Lunar Spine | 87 | - | 60-100 | - | - | 70-90 | - | - | - | - | 20 | - | 40 | Fast | 3 |
| Judas | 89 | - | 0-100 | - | 50-50 | - | - | - | - | 100 | - | - | - | Super Fast | 3 |
| Nepta Floodbringer | 93 | - | - | - | - | 80-100 | - | - | - | - | 110 | - | - | Super Fast | 2 |
| Phoenix Wing | 94 | - | 35-75 | - | - | - | 45-75 | 30-50 | - | - | - | 30 | 20 | Fast | 2 |
| Morrowind | 96 | - | 30-90 | - | - | - | - | 60-180 | - | - | - | - | 75 | Fast | 2 |
| Cascade | 98 | - | 12-24 | 12-24 | 12-24 | 12-24 | 12-24 | 12-24 | 15 | 15 | 15 | 15 | 15 | Very Fast | 3 |
| Bonder | 99 | - | 200-450 | - | - | - | - | - | - | - | - | - | - | Slow | 4 |
| Infused Hive Wand | 100 | The Qira Hive | 150-250 | - | - | - | - | - | - | - | - | - | - | Fast | - |
| Name | Lv. Min | Quest Req | Neutral Dam. | Earth Dam. | Thunder Dam. | Water Dam. | Fire Dam. | Air Dam. | Str. Min | Dex. Min | Int. Min | Def. Min | Agi. Min | Attack Speed | Slots |
| --- | --- | --- | --- | --- | --- | --- | --- | --- | --- | --- | --- | --- | --- | --- | --- |
| Pure | 65 | – | 0-0 | – | – | 15-35 | – | 10-40 | – | – | 50 | – | 30 | Normal | 0 |
| Lament | 96 | – | 160-240 | – | – | 150-250 | – | – | – | – | 110 | – | – | Slow | 3 |
| Gaia | 97 | – | 130-210 | 335-400 | – | – | – | – | 95 | – | – | – | – | Slow | 3 |
| Monster | 98 | – | 125-215 | – | – | – | 210-280 | – | – | – | – | 115 | – | Slow | 2 |
| Fatal | 99 | – | 0-0 | – | 1-500 | – | – | – | – | 100 | – | – | – | Very Fast | 2 |
| Warp | 99 | – | 50-90 | – | – | – | – | 200-270 | – | – | – | – | 130 | Very Fast | 2 |
| Singularity | 99 | - | 0-0 | 250-300 | 50-500 | 200-350 | 150-400 | 100-450 | 55 | 55 | 55 | 55 | 55 | Super Slow | 15 |